You start with some bone-in cuts of beef, and additional beef bones, and roast them at 375ºF for 30 minutes. Transfer all meat, bones and drippings to a slow cooker. Add chunks of carrots, onions, celery and mushrooms.
Add water and an acidic like vinegar or tomato paste, along with some salt. Cook on low for six to 24 hours. Pour the liquid several times through a strainer. Store the liquid in containers in a fridge or freezer.
That, roughly summarized, is the The Pioneer Woman's online recipe for beef broth.
Every beef lover has his or her favorite cut. The ribeye, sirloin, tenderloin and tri-tip usually top the list. The country folk love their briskets and burgers. The international crowds want tongue and short ribs.
All of them are worthy choices because they build the connection of beef to any culture or culinary taste.
But let me take a moment to sing the praises of beef broth, that unheralded amalgam of flavors blending muscle and marrow in a way no other beef serving can match.
After a recent hospital surgery, my doctors and nurses were required to hold me for a week on what's known as the "sip and chip" diet. Water and ice chips – and nothing else.
When you're going through some pain and nausea, that's not such a bad diet. Also, after a while, your body and mind start having fever dreams about food that are actually quite nightmarish.
But after six days, I was good enough to begin the liquid food diet. And along with some Jell-O came a hot serving of beef broth.
It didn't have the tender and succulent bite of the ribeye. It didn't match the juicy taste of the tri-tip. There were no smoky burnt ends like that of the barbecue brisket.
The beef broth was actually better than all of those. I'm pretty certain it wasn't The Pioneer Woman's recipe. But whatever they did to make it did my heart, body and mind a wealth of good. Hot, savory, rich in flavor, with even wisps of fat skimming the top, beef broth was the perfect meal to wake up my palate from a slumber of medicine.
After a few sips, I was praying thanks to the cow or steer and its owner who delivered the goods. It was the most memorable serving of beef in my lifetime.
That's the emotional connection people have with their choice of beef. The umami flavor of beef has a mild and lasting aftertaste that lingers long after the meal is done. Such a sensation has a memorable draw, bringing us back for the experience again and again.
That's why producers will always be called upon to bring the world a stellar product, and why beef will be served at weddings, holidays and hospital beds. A lasting, healthy and memorable serving of beef always does the body and soul good.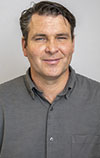 David Cooper

Managing Editor
Progressive Cattleman