When you visit any seedstock producer, be it in the Rockies, the Southern Plains or the Midwest, the conversation usually wanders into a friendly invitation. Will you be back for the upcoming production sale?
It's always an intriguing offer. If you think about it, it also reveals something special about folks in the cattle industry.
Any self-respecting cattleman knows the livestock they sell are a reflection of the land where they are raised and the tradition and values of the family in charge. As any marketing expert would say: You are the product you sell.
Producers in the cattle industry aren't intimidated by that prospect. They live by it. And so they market their cattle at the very location central to their identity as a family and business: the family ranch.
The annual production sale welcomes buyers from down the road, nearby counties and faraway states. The ranch corrals are open for visitors to mosey up close. Bulls and females are properly cleaned and clipped. On their pens are charts showing genetics, health history and sire/dam pedigree charts, practically anything you want to know about the animal.
Out in the horizon are hay bales tightly wrapped and standing sentry. Alfalfa fields are neatly planted or probably already in their first cuttings. Down to the corrals you step on fresh bark and wood chips scattered for a tidy path. And wafting in the air is the smoke of grilled burgers, or if you're lucky, some braised brisket being prepared for lunch.
The ranch owner and the family members are working furiously for their guests with paperwork and buy orders, and it always seems to pay off. The auctioneer may be the voice and sound of the sale, but the owner at one point takes time to welcome all the visitors, and it's a greeting filled with sincerity and gratitude.
During the sale, you may meet one of the owners, and probably they'll be holding a grandbaby in their arms.
It's a grand event you won't see with a GM, Apple or ExxonMobil. But it works well for the cattle industry. And it speaks volumes about the integrity and diligence of those raising today's livestock.
There are still critics who say the agricultural industry lacks transparency and is run by factory farms. But any visit to a family ranch production sale proves just the opposite. The family ranch is alive and well, and their owners are painstakingly open about how they raise their cattle.
This month's issue, our largest ever, includes a special focus on ideas to improve and succeed with your annual livestock production sale.
And to the producers around the country who open their doors to neighbors and cattlemen: Thank you for putting your best foot forward and showing the world who you are, and what the entire cattle industry strives to be.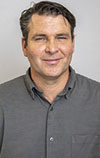 David Cooper

Managing Editor
Progressive Cattleman