Joining the army, skydiving, running 20-something ultramarathons, partying and biking across Sweden isn't the usual four-year training period for athletes between the Olympic games.
At least, not if you want to win.
But after finishing a disappointing 14th in the men's 5,000-meter speed skating event during the 2018 Pyeongchang games, that's just the approach Sweden's Nils van der Poel took. And it paid – in gold.
Fast-forward to the recent Beijing Winter Olympics, the 25-year-old pulled off a stunning comeback, finishing in six minutes, 8.84 seconds – Sweden's first Olympic speed skating medal in 34 years and an Olympic record. Pretty remarkable for someone who may have spent more time on a bike than in skates.
Van der Poel told The New York Times his little hiatus was all an attempt to keep from burning out from training in a sport he claims can be too "monotonous" to do every day. By taking a break from speed skating and trying other activities, he was able to regroup and go back into training with enthusiasm.
He said, "Whatever you can get inspired by, you need to find that … being away from the sport makes you look at it from another perspective."
America's beloved gymnast Simone Biles announced something similar last fall. Not sure if it would be temporary or permanent, Biles told The Associated Press she was taking a break from the sport to encourage mindfulness and mental well-being.
As I tuned into the recent games and read the stories of these athletes, I was reminded that even superhumans need a recharge at times. Surely Olympians aren't the only ones notorious for working long hours, dealing with stress, fatigue and perhaps even burnout. My mind turns especially to those who are reading this – rarely home for a hot meal during calving and breeding season, and routinely surpassing more than 40 hours per week.
There's no gold medal to be achieved, and working in agriculture is often demanding, uncertain and a thankless job. But you love it.
One of our regular management coaching contributors, Don Tyler, said in an article, "Batteries often don't show they are low on power until they're nearly dead. We need to recharge our batteries, even if we feel like we're doing fine."
The lawyer, the kindergarten teacher, the editor and even the Olympian all need some time away. It's a rancher's nature to soldier on, but revisiting that fishing hole, going to a trade show, touring your area of your state, riding your horse with no agenda or booking that trip you've been meaning to for years can renew your energy and bring a new perspective that will compensate for your absence. Just like these Olympians, I encourage you to make it a priority this year – for you, your family and your business.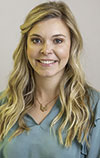 Cassidy Woolsey

Editor
Progressive Cattle