It was cold – painfully cold. The kind that instantly slaps you in the face, stiffens your coat and freezes your nose hairs. Horses were hunkered under trees, cattle were grouped up along fencelines, and anything smaller, or perhaps smarter, was nowhere in sight.
I was traveling southwest on Highway 151 on my way to another beef conference. It felt a lot like my Idaho home as the wind ripped at my little Nissan, and the snow danced across the road. The only difference was the unusual phenomenon known as the "Polar Vortex" that had temperatures plummeting and me wishing I packed my coveralls, wild rag and maybe a survival kit – just in case this tourist ended up in a ravine somewhere.
"Welcome to Iowa," the snow-dusted sign read. It was a very "warm" welcome indeed.
This wouldn't be the first time a state welcomed me with rather unfriendly accommodations. In fact, this past summer, Nebraska decided to have a sense of humor as I was driving west from Lincoln on my way to Kearney. For the most part, the skies were clear but, out my passenger window, I could see dark clouds quickly swallowing up what was left of the blue. Then, just as fast as the winds picked up, the cars around me started to disappear.
Yep, it was a tornado warning, and this gal was just about as clueless as a first-time homebuyer. Needless to say, the tornado never touched down, and it's a good thing because I, and the trucker from Utah, had no idea what to do.
There was also the humidity I experienced on a farm tour in eastern Kansas in late June, monsoonal rains in South Carolina and the loneliness of driving in the Nevada desert. While I haven't quite made it to all 50 states, one thing's for sure: We all have our own distinct challenges and advantages to the environment in which we live.
We've heard time and again cattle need to match their environment. In an industry where Mother Nature dictates many of our decisions, having cattle that can perform in those conditions is key to profitability.
Burke Teichert, a popular speaker and ranch consultant, recommends producers pick their two toughest months and then breed their cattle to fit those conditions. He said, "Whether that is the heat of the summer, when the humidity is high and the insects are bothering the cattle, or it's cold and snowy, these times get to be tough on your livestock. Select cattle for that."
In recent years, there has been a big push for more – more muscling, more milk and more growth. While this may be a worthy goal, not all environments can support that and will often have the opposite effect on profitability. The more time I spend traveling to operations and industry conferences, the more I understand why experts spend so much time and effort in teaching this concept.
Just like you wouldn't expect me to sit through a farm tour in Kansas without sweat rings or to proceed with a farm photo shoot in the middle of a Polar Vortex, we shouldn't expect our cattle to perform in an environment they weren't bred for.
With this issue focusing on breeding and genetics, I encourage you to keep in mind your environment when making decisions this year.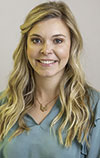 Cassidy Woolsey

Editor
Progressive Cattleman