As I write this, the world has just welcomed in 2021 with an almost desperate sense of relief, as if flipping the calendar from 2020 to 2021 will magically make everything better. Who knows?
As is tradition, many people have rung in the new year with shiny new resolutions (usually recycled from previous years) like losing weight and saving money or, in a rancher's case, increasing herd size and upgrading facilities and equipment.
By the time you read this, the scale is most likely back under the bathroom cupboard, your savings account is just as anemic as it was a month ago, and it looks like that new corral and chute may have to wait 'til next year.
At this time last year, COVID-19 was a vaguely concerning whisper coming out of China. No one could have predicted how quickly and viciously the global pandemic would shut down life as we know it and force us to adjust to the unprecedented, uncertain, troubling (insert doom-laden adjective here) times. By now, the "new normal" everyone has talked about is starting to feel more like life as we know it and less like stepping into a cold shower.
While the life of a rancher is filled with uncertainty, thanks to the human inability to foretell the future or control cattle prices, weather and your neighbor's ornery bull, some things remain beautifully consistent.
For instance, pandemic or not, many things about this time of year have not changed. You've had time to adjust to writing 2021 on all your paperwork and, hopefully, you have used some of those long winter evenings to make some plans for the year. If you have a spring-calving herd, you are on the brink of calving season and, in most places, bull sale season is just around the corner and grazing season is a soft green glimmer on the horizon.
Optimism aside, common sense and many market analysts will tell you this year will likely be a difficult one. Cattle prices and beef prices will remain volatile, there are sure to be a variety of natural disasters to pick from, and politics and international trade challenges are sure to rock the boat even more. A marginally comforting thought is: These obstacles are, in and of themselves, a constant. If cattle prices stayed constantly high and the weather was always favorable, what would we have to talk about when we run into a fellow rancher at the coffee shop or grocery store?
One thing that has been made clear to me in the last year is: We in the beef industry cannot afford to crawl under a rock and wait until the storm is over before keeping on with life. On a ranch, shutting down is not an option. Troubling times will come again, and the effects of these times will linger long after the danger is over – but life must go on. Learn from the past, keep an eye on the road ahead, enjoy the miracles of the present, and try resurrecting one of those New Year's resolutions.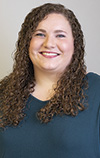 Carrie Veselka

Editor
Progressive Cattle