Most ranchers would admit they have a love-hate relationship with calving season, and each year seems to come with its own set of challenges.
There's the mess of sewing up a prolapsed cow, late nights checking first-calf heifers and the unfortunate scours outbreak you somehow managed to dodge until this year. There's the calf you couldn't save, the vet-verified "pregnant" cow that never calved and that ornery mama with the bad udder you wish you would've loaded in the truck last fall.
There's later-than-usual snowfall, receipts to gather and taxes to file, and then there's that hole in the corner fence the heifers discovered. While some years you can sneak by with only a minor setback or two, other years you may wonder if someone left the gate open to all your troubles.
During my time at Progressive Cattle, I have been privileged to interview and visit with many of you – from the palms and palmettos of central Florida to the pines and mountain peaks of western Montana. Each with your own unique environmental struggles, there's one commonality I've picked up on during my visits – a change of tune when talking about your calf crop.
I've noticed that even the most reserved cowman loosens up to my questions as we bounce through the pasture, talking about sires and pointing out this year's favorites. The sense of pride is almost tangible as we stop to get a good look at potential replacements or even a possible candidate for a grandchild's 4-H project. And, after about 50 minutes or more, this once-hesitant cowman will ask if I have time to look at "just one more set of calves."
He'll pull from memory bloodlines and success stories, reference tag numbers and breeze through EPDs. He'll laugh at a story from yesteryear and before we know it, we'll lose track of time and he'll apologize for keeping me (but, from experience, I had already planned on that).
I've come to find that no matter the personality, years of experience or style of hat, ranchers everywhere share in the gratification that comes with watching years' worth of decisions and work take their wobbly first steps. Because you enjoy the process, you are able to set aside the headaches and disappointments and do it all over again – year after year.
Along with the new year, a new set of calves signifies a fresh start. And, after a year like 2020, a fresh start and healthy calves is exactly what we need to lift our spirits. Happy calving season.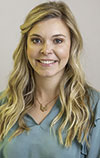 Cassidy Woolsey

Editor
Progressive Cattle