The publication you're holding, or reading online, is almost 10 years old. When we released our first sample issue in 2010, it was dedicated to delivering the best information to cattle-producing readers for the success and sustainability of their ranch and livestock.
We also were striving for more than that. The magazine aspired to showcase "what the best and the brightest are doing well in their business." We said we would find producers who achieved more, learned more and improved more, as a reflection of our industry's progressive attitude. To meet that standard, we dedicated the magazine to the "progressive cattleman."
That is a worthy endeavor, but the name only gets us halfway there.
Language is a powerful tool that enables us to find greater meaning and purpose. The words we use can divide us or unite us. And the more we have learned about the cattle industry, it's clear we leave at least half our industry out when we narrow progressive producers under the singular of cattleman.
Starting with this issue, our publication will be renamed under a unified name for all of the best and brightest in cattle ranching. Beginning with this edition, we will be known as Progressive Cattle magazine.
Why the change, you may ask?
As a company, we are committed to readers, clients and industry allies in a way that binds us together. We strive to build relationships so that all can grow. And we aim to be the beef industry resource for everyone in the business of raising beef cattle.
Inclusion is a key way to build those relationships, and we want our name to include all men and women doing the very best for the beef industry. This name change reflects that.
Current demographics show just how influential and significant women are to ranching, animal science, veterinary medicine, nutrition, genetics, extension and industry leadership. That trend continues to grow.
Major land-grant universities show women are the majority of incoming freshmen, and college graduates, in degrees of agricultural science and animal science, to the range of 72% for freshmen and 78% of graduates. A 2017 report from the American Association of Bovine Practitioners shows that while the majority of its membership is male, among vets younger than age 35 the majority, 59%, are female.
Some may call our decision based on political correctness. But really it's just about correctness. Most ranches are family-owned, where mothers, wives and sisters do the heavy work, management and long hours alongside the male family members. Our own business was the very same, founded by owners Leon and Jane Leavitt, who worked together, alongside their children, to establish the editorial and publishing standards we follow today.
The best and the brightest in the beef industry come from all demographics, households and members of the family. We're proud to have a magazine masthead that reflects their legacy of hard work.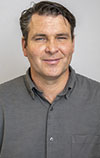 David Cooper

Managing Editor
Progressive Cattle