As I write this editorial in my hotel room, my boots are off, my feet are up – and if I was wearing a Fitbit, I am certain I would have exceeded the day's recommended 10,000 steps with more planned tomorrow.
And it's probably a good thing because hors d'oeuvres and mini candy bars are at every corner around here.
It's the week of the 2021 annual National Cattleman's Beef Association (NCBA) Convention and Trade Show in Nashville, and although it's a busy time for us editors, it sure feels good to be out and about again. It's been nearly 18 months since I've attended a cattle conference – and from the roar of conversation in the trade show room, I am reminded it's been a while for you, too.
While I've listened to several virtual conferences from the comfort of my office, the camaraderie felt from being in a building with like-minded people isn't available through the screen. Women dressed in their favorite blouses and turquoise jewelry, men in pressed jeans and their nicest felt or straw hat, gathering with one goal – to move the beef industry forward.
I don't need to tell you this is a tough industry. There are a lot of things largely outside your control. Inadequate packing capacity, varying opinions on price discovery, market volatility that is not going away, inflationary pressures that continue to escalate, labor shortages across the supply chain, urban sprawl and its effect on property values, and one that hits a little closer to home for me in Idaho – drought.
These challenges speak volumes about beef producers and their passion for the product they are producing. With all the pressures from outside influences, most industries would hang their hat. It's heartbreaking to see how drought specifically has impacted the producers in my country – and sitting in the CattleFax outlook session, it sounds like drought in the West and Northern Plains will remain a major headwind going into winter and early 2022.
Despite all that, I see handshakes and smiles, and optimism for the future. Producers from coast to coast making decisions, furthering their education, talking to company representatives about their products and services, and troubleshooting their own regional differences with one another. The pandemic may have slowed production and upset cattle markets, but beef demand continues to be strong and so does producers' commitment to quality and the longevity of this great industry. It's good to be back with y'all.
To hear more from our time at this year's convention, be sure to check out our Progressive Cattle podcast and watch for more write-ups coming out in our print issues and newsletters.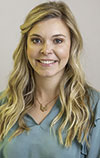 Cassidy Woolsey

Editor
Progressive Cattle