A few years ago, my wife asked me what I needed for Christmas. I racked my brain and offered some vain ideas. But in my heart, I knew the answer. I didn't really need anything.
Each of us comes to a day or age when the holidays remind us we have enough, perhaps too much, to be expressing our wants as necessary needs.
That's not to say we all don't have needs. It's just that they cannot be satisfied by the indulgences of the world, especially those commercial offerings the world places so much importance on at Christmas.
There are many among us who have great needs, for materials, food, shelter and charity. There are many among us who need compassion, love, wisdom and understanding.
And when we understand that, what we truly need at Christmas is to give.
The writer Thomas Dreier once wrote about a man well into his 80s who was seen by a neighbor planting a small peach tree.
"Do you expect to eat peaches from that tree?" the neighbor asked.
The older man rested on his shovel. "No," he said. "At my age, I know I won't. But all my life I've enjoyed peaches, never from a tree I had planted myself. I wouldn't have had peaches if other men hadn't done what I'm doing now.
"I'm just trying to pay the other fellows who planted peach trees for me."
—From David Dunn; Try Giving Yourself Away)
With that perspective in mind, ask yourself: What should I be willing to give?
The greatest gifts we receive are those that endure; they are gifts that sustain us and inspire us long after we received them. They are gifts that others perhaps make with great sacrifice to themselves and others.
One year ago, I was the lucky recipient of such selfless and meaningful giving. After years of health struggles, and a period of time on a waiting list, I received two organs from a young man, tragically taken, who became an organ donor. Through his generosity, and the kindness and bravery of his parents, a part of him became a life-saving gift to me and my family.
You'll need to please forgive my personal experience on this page, but when I think of that family on this Christmas holiday, I must openly express how grateful I am for those gifts. This Christmas, I have no needs other than to offer prayers and love to those who have sacrificed on others' behalf. (And please go to Donate Life to learn more about organ donation.)
The Savior, who left this world with no possessions, had his raiment taken by soldiers, was buried in a borrowed tomb and gave the infinite sacrifice, said this:
"Peace I leave with you, my peace I give unto you: not as the world giveth, give I unto you."
May your Christmas be filled with peaches, peach trees and special gifts offered and remembered.
Merry Christmas.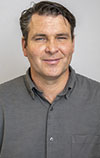 David Cooper

Managing Editor
Progressive Cattleman