The life of an ag magazine editor is not a life of danger. Nonetheless, there are moments of dread and some mental anguish.
Recently, we published an article profiling a facility in a unique setting that facilitates a high volume of international beef cattle trade. These types of stories are always a mixed bag – very illuminating but also capable of waking a bear. Trade stories can stir up sharp criticism, very common of late, that the focus should be on U.S. producers – not those buying or producing cattle across borders.
So when I logged on to the Progressive Cattleman Facebook page to the response, I was expecting some fire and brimstone. Instead, it was a pleasant surprise. Online readers were highly positive about the story – and yes, some of it was from across the border.
That observation sparked more curiosity about who's reading our stories on social media. Here I must admit: My distaste for Facebook has been tempered with respect. I can see through the site that a good number of readers are international and look to our page as an outlet for ways to improve cattle production in any setting.
From Egypt to Oregon, South Africa to South Carolina and Ukraine to Utah, a common link of livestock production is more apparent, all thanks to the common links of the internet and social media.
This growing interest shouldn't be understated as we see the industry campaign and lobby the world for more interest in agriculture and food production. Perhaps more importantly, the idea beef producers across the globe want information about U.S. production should be cause for motivation and action on our part.
Whether a producer in South Africa has the same climate, culture and resources as the producer in Texas is a fascinating question. And it's revealing to see how producers in Kansas, Missouri and Pennsylvania aren't the only ones waging an annual battle with pinkeye. The same can be said for producers in Africa and Australia.
It's been commonly repeated how farm and ranch families make up just 2 percent of the U.S. population. But on a global scale, close to 40 percent of the workforce is connected to agriculture, employing over 1.3 billion according to the Food and Agricultural Organization.
Whether from a developed international country or third-world surroundings, the interest shown in U.S. ranches, with our models of productivity and sustainability, is a trend that should be fully embraced. In a similar fashion, there are methods and ideas that could be gathered from other international production models and studied here at home.
Here's hoping our goals for a stronger U.S. beef industry become a stronger farm and ranch industry with partners worldwide. The fact is: They'll probably learn to succeed by watching you.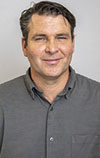 David Cooper

Managing Editor
Progressive Cattleman