Calving, branding, weaning and shipping, these are the seasons in a cattle producer's year. Although every producer knows what happens after shipping, their job is to get the cattle on the truck as easily and in the best shape as possible. An entire year's worth of work is over in just a few hours. Some producers are relieved after this moment, while others worry that their livelihood was just put into the hands of someone else to finish the job.
In June I attended the Idaho Cattle Association Summer Round-Up. On the third and final day, all attendees were given the chance to tour the CS Beef Packers Facility in Kuna, Idaho. Caviness and Simplot have joined together to create the most state-of-the-art packing facility built to date, and the entire plant was designed with animal welfare and safety as the main goals.
After a two-hour tour of the facility, here are some points I took away from the tour:
A hallway with windows lines one wall of the plant, allowing tours to be given without the traditional safety concerns, which are the primary reason for not allowing tours.
We were introduced to many people who worked in various parts of the plant, and each one of them spoke about how passionate they were about their job and the animals that come through the facility.
While our main tour guide spoke, he shook hands with every employee that walked by him.
As if shaking hands wasn't enough, he also broke his train of thought to call each employee by name and greet them in a friendly way.
Each step of the process was explained to us thoroughly, and new methods for a more productive process were introduced at each stage.
Caviness has managed to integrate their family-run business and the qualities that come along with it into a large-scale production facility.
Simplot has an on-site lab for developing embryos that are ready to be placed into recipient cows.
A career in this industry isn't for the faint of heart.
Overall, it was clear to me how much the people at CS Beef Packers care about the work they do. The cattle, producers and employees are all in great hands at this facility, and it revealed the importance of learning more about the company producers trust with their year's work after the shipping process. Perhaps it will even provide a feeling of relief, rather than worry, next time the truck pulls out loaded with cattle.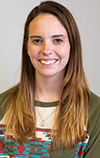 Joy Hendrix

Writer
Progressive Cattleman