Who wouldn't want to spend a few days in Phoenix in the middle of winter – especially with a bunch of like-minded cowboys, crackers, buckaroos and punchers from Winnemucca to Ridge Spring?
That's mostly a rhetorical question. If your name is Wayne Pacelle, you may want to skip to the next question. I, however, couldn't have been more thrilled to cancel winter for a couple of days and hop on down to the sunny desert country.
I had a problem, though. I'd made my plans and booked my flight several weeks in advance of the trip. I had it all figured out. The basketball season would be over on Saturday. Or so the schedule said. The district junior varsity tournament planners decided to slam me with a moral dilemma, however. Of course, I expected a fourth straight win in the championship game of the tournament from the girls from Oakley, Idaho. A good coach would expect nothing less. I'm not a good coach, but I expected nothing less, anyway. What I didn't expect was for the championship game to be moved to Tuesday night, after my planned departure to the Valley of the Sun.
I did some finagling and bought an extra one-way ticket to Phoenix and kept my original return flight. It was a rip-off at $400, but I figured we could live on bread and water for a month or so, and all would be fine.
With my quick thinking, and quicker spending, I was able to coach in the championship game and make it to the NCBA Convention and Trade Show the next day.
My last night at the convention was capped by a chance meeting of one of my all-time heroes. Crossing the street, on my way from the soiree where the Hereford and Red Angus Associations announced a groundbreaking new joint venture, I came face-to-face with Baxter Black and his singular cowboy genius. Just like anyone else who has a fondness for all things bovine, I was a little starstruck. I was shocked when he stuck out his hand as I approached, and before I introduced myself said, in true Baxter form, "Well, hello, Paul Marchant. I thought that was you stumbling across the street!"
And, just to prove that good things can still happen to fools and ill-prepared people, Delta airlines had overbooked the flight from Salt Lake to Twin Falls. When they asked for volunteers, I was the first one in line. They were grateful for my willingness to offer up my seat, and I was happy to take the $400 they offered in return.
Oh, and I know you're reading to the end to find out how the game went. We won the championship game in triple overtime!
Sometimes things even out, and sometimes you may even come out on top.
It sounds like a riddle. But what happens when two cowboy prosateurs meet while crossing a street in Phoenix? It's a mystery to all except the author and Baxter Black, right?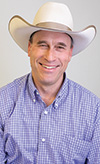 Paul Marchant

Writer
Progressive Cattleman
PHOTO: Photo provided by Paul Marchant.