As the cold reality of winter sets in, and the daylight hours shrink, I think fondly of the bygone days of a few weeks ago – when the colors were just beginning to change, and Mother Nature still shed just enough light and warmth on the Heartland to encourage anything green to squeeze out its last tiny bit of growth.
I spent a few days in Omaha at the American Association of Bovine Practitioners (AABP) annual conference. You know those guys; they're the cow vets. I made some new friends and reacquainted myself with some old ones.
Sometimes when I find myself in the company of the highly educated, I have to paddle pretty hard just to keep my head above water in the sea of intellectual conversation.
One of my old friends, a cow doc from central Utah, sensing my struggles to keep up with the fast-paced speedboat of a scientific jargon-filled lecture, in his self-deprecating way, slowed the boat down and let me in on a little-known and closely guarded secret of the veterinarian world. He asked me if I knew the difference between deity and veterinarians. When I answered in the negative, he gave me the answer: God doesn't think he's a vet.
I must admit, however, I've been witness to more than one miracle where I've seen God do his work through the hands and mind of a skilled and savvy vet.
Speaking of God and miracles, I had a day to kill at the conclusion of the AABP conference, so I decided I'd take a day trip eastward into Eden. At least that's what it seemed like to me, as I traveled through the magnificent farm country of western Iowa.
I wanted to visit Brad Z Angus Ranch in Guthrie Center and Leonard Limousin in Holstein. Since I'm 100 percent German on the bottom side of my pedigree, I felt right at home in Holstein, and I was in utter awe of the landscape as I made my way from Omaha to Jim Bradford's place in Guthrie Center, over to Holstein and back to Omaha.
Don't get me wrong; I'm a Great Basin and Intermountain guy, through and through. There's nothing I appreciate more than the wide-open spaces and the beautiful scenic vistas of the West. But the miracle that is the American Heartland is nothing short of spectacular.
As far as I could see, in every direction, miles and miles of corn and soybeans stretched to what seemed beyond infinity. Dark, rich soil, like nothing in the West, explodes with the earth's bounty – and not a rock or ditch or piece of irrigation equipment in sight.
Lori Leonard helped temper my infatuation when she remarked, "Come back in January. It's not quite so Eden-like under 2 feet of snow at 20 below."
PHOTO: In late September, the countryside in western Iowa looked like the Graden of Eden compared to anyplace in the West. Photo by Paul Marchant.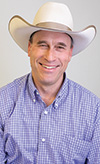 Paul Marchant

Writer
Progressive Cattleman