Editor's Note: Follow along as Progressive Cattleman editors share conversations and news learned from the road in the new 'Trail Rides' blog.
Yes, this trail ride put a little dust in my throat as mild winds blew through Reno, Nevada, at the California Cattleman's Convention. Tumbleweeds gathered at the edges of the freeway and caught in some of the best freeway metal art I've seen anywhere in the country – trout swimming in a streambed, covered wagons rolling across the desert, sheepherders with flocks, white-tail deer hiding among sagebrush and railroads emerging from underpasses were among the displays.
This was an art exhibit that didn't get in the way of depicting local history and lore. Well done, Reno, well done.
I heard one of my favorite speakers – at least he's quickly becoming one of my favorites – Brett Stuart from AgriTrends. He spoke last year, as well, on the industry outlook and offered insight into the 2018 markets and production conditions.
I met an ophthalmologist who just completed his first year with a 100-head cow-calf herd, his lifelong retirement dream. He was grateful to be involved and soaking up everything he could, cornering Cattlemen's College session speaker Burke Teichert between sessions to get advice.
The Western livestock industries are dependent on continued use of public lands for livestock grazing. About 20 percent of the animal unit months (AUMs) for Western livestock production is derived from public lands, which equates to approximately one-third of the forages used.
These lands are managed for multiple uses, including timber, mining and recreation. These differing focuses are often contrary and these, combined with the arid and semiarid nature of the high elevations, create ongoing challenges and opportunities for producers throughout the West. Sessions throughout the conference addressed property rights and environmental management.
I drove by the Bently Ranch in nearby Minden, Nevada, in the stunning Carson Valley where they practice biomass recycling and furnish grass-fed beef through an online store and through local partners. And by darn, next year I'm stopping in for a visit.
It was great to be among producers during a year when no matter what segment of the industry they serviced, they had been profitable. That rarely happens. But in Reno, the stars aligned and producers were optimistic but cautious in their 2018 outlook. As trail rides go, it was a good 'un.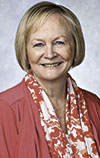 Lynn Jaynes

Editor
Progressive Cattleman