If you're on any form of social media, you've probably seen elderly versions of your friends dominating your feed recently.
From the neighbor down the street to Fixer Upper's Joanna Gaines, the popular FaceApp's realistic age filter has added "decades" to more than 150 million faces in the last few months, making for a good laugh and a stronger case to lather on the sunscreen.
However, it didn't take long for someone to spoil the fun, as privacy concerns began to surface regarding the Russia-based company's intent with the photos and if they gained access to the user's entire camera roll. Who owns the photos? What happens to them, and what other information did the company gain access to?
I know it deterred me from checking out the 60-something version of myself.
This brought to mind the discussion of "big data" that has been covered in recent Beef Improvement Federation meetings and popping up in industry articles. While different from the privacy concerns of FaceApp, big data in the cattle world has raised similar questions, namely: Who owns the data? Where is it? And how can we best utilize big data?
Beef producers have been manually collecting data for years. What used to be scribbled on a notepad chuteside, crinkled from sweat and animal feces, can now be computed electronically at a rapid rate. The only difference now: As technology has advanced, especially in terms of genomic data, the data has only gotten bigger.
One industry that is fully taking advantage of big data and its corresponding technologies is pork. Jeremy Howard of Smithfield Premium Genetics shared at the 2019 BIF meeting that these are exciting times for integrated companies like Smithfield Foods USA. Gathering data from segment to segment (genetics, animal production, packing plant), they can make changes to individual animals that can improve the profitability of the whole system.
Pork relies heavily on electronic feeders at the commercial level to record feed intake and weight for each individual pig, as well as the data gathered at the packing plant. This can help the commercial sector more effectively manage a group of pigs as well as assist the breeders in selecting candidates that excel in economically important traits. And, more recently, new devices such as facial recognition cameras have allowed them to gather even more data in terms of behavior and identification.
Big data and its corresponding technologies are revolutionizing the way pigs are managed to achieve maximum production. Can it do the same for the beef industry, which isn't necessarily in a vertically integrated structure? While the beef industry continues to compete against other proteins and now lab-based products, it has become even more critical that we take the data gathered and turn it into information to be used across sectors.
Many questions remain unanswered regarding "big data" and how it will be used and shared going forward, but as was pointed out the recent BIF meeting, "Technology is rarely the limiting factor; it's mindset and tradition that is often the limiting factor."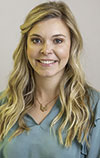 Cassidy Woolsey

Editor
Progressive Cattle