My cattle wintered well, and I had a nice calf crop this spring, but the heat and humidity of summer here in south Texas makes me anxious for a nice rain.
The grass is crispy in the middle of the pastures even though there is still quite a bit of standing green. Most of the U.S. is in better shape than I am but some of you are worse. I saw quite a bit of hay being fed in late spring and early summer in Texas, which is never a good sign.
When I began ranching on my own about 20 years ago, I began to pay a lot more attention to the weather, especially rainy weather. The past few years have been good ones for me with about-average rainfall in 2014 and 2016 (29 inches) and over 40 inches in 2015. It allowed my pastures to recover from the severe drought of 2012-2013 and with my grazing system, gave me some flexibility.
However, like most of you, I am always looking for a rain, and this year has been no different. Right now, my rainfall total is at 6 inches or so for the year, about 4 inches short of the long-term average for this time of year, and it is beginning to show.
According to the U.S. Drought Monitor, my county (Jim Wells) is abnormally dry as are a few counties south and north of me and some states.
When we went into the last big drought in 2012, I penned up my cows in a trap and fed them for 144 days. I had decided that allowing them to remain on the pasture was just going to ruin the standing forage when we did get a rain, making recovery longer and more expensive. I bought hay from about 200 miles away and mixed a basic ration of sorghum grain and whole cottonseed that I fed every day; hot or cold, dry or wet. It cost me about $2.40 per head per day, but I kept the herd and its genetics intact and had a good calf crop.
It was the first major feed expense I had in several years. It began to rain about 90 days into the program but I knew the country needed to recover, so I continued to feed until I thought the grass would withstand grazing. I remember the calves being turned out, some were 3 months old, trying to eat anything that was green, whether it had thorns on it or not.
A few years before that drought, I had decided to reduce my stocking rate to 75 percent of normal (or recommended) and to try and not feed any hay or supplemental feed in the winter, only mineral. However, in really bad droughts, I knew I would have to or destock further. I have a dozen or so traps and pastures where I use decision-deferred (my decision) rotational grazing.
Even with 50 percent brush cover, most of my pastures were showing slow improvement (more grass production, less open ground, more desirable plants, less weeds) as a result of my planning. That decision certainly helped my pastures recover more quickly after that severe drought.
One of the tools I use utilizes a three-month running rainfall average. When I have three months of below-average rainfall, I think it is worth reviewing my drought plan. I'm not there yet; fortunately, the third month of the three often provides above-average rainfall – so far. However, dry and open cows (I have none) would go first, followed by heavier calves, to reduce nutritional stress on their dams.
Most of my calves came in April so the steers could be sold, or I might creep them a little with a limited high-protein creep. I do have some nice heifers that I plan on keeping and could do so in some small grass traps around the headquarters, or I might move them to someone who has grass.
If we get a tropical storm south of me that would be great, I would get some rain. But as it stands now, it looks like it is going to be a dry year for some of us, so it might be a good time to get prepared.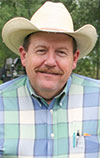 Joe C. Paschal

Livestock Specialist
Texas A&M AgriLife Extension
Corpus Christi, Texas