My wife and I pulled into the compound at ranch headquarters a while back to find a black Angus bull lounging against the front gate to the ranch house. With a deep sigh and resignation in her voice, my wife said, "It's always the bulls!"
We were unloading groceries when Solon, who rents a spare house at headquarters, came over to explain. Waving his thumb over his shoulder in the direction of the bull, he said, "He got into a fight and one of the younger bulls worked him over."
"He deserved it, I guess," he went on, "He started it. In fact, the younger bulls never tussled until this guy taught them how to fight."
Great, I have 2,000 pounds of potential hamburger happily chewing his cud in my front yard, unable to work, plus, he taught the younger bulls to fight.
My wife was right; it's always the bulls.
If your head counts don't match your cattle inventory, it will always be the bull counts that are off. If a bovine in the herd has a limp, it will undoubtedly be one of the bulls. If 20% of your cows don't breed back, I can pretty well guarantee you don't have a problem with that many cows – blame some bull.
A couple years ago, one of our neighbor's bulls crossed the neighbor's border fence and two of our internal fences to get to our cow herd. We called the neighbor, Garth, who came and picked up his bull. Garth moved his bull two pastures away and we both repaired fences.
The next day the bull was back, having torn down two of Garth's fences and two of ours. As Garth loaded the bull into a trailer, he scratched his head and explained that he had run out of fences to put between his bull and our cows. Consequently, we had to move our entire herd of cows four miles to the back of our ranch. Nonetheless, the next spring we had two orange calves and one with purple polka-dots that I can guarantee didn't come from our bulls.
Several years ago, we bought an elderly neighbor's entire herd and began the lease of his ranch that adjoined ours. The herd came with two old, cantankerous Charolais bulls. The "old" and "cantankerous" parts were the best things about these bulls. Each bull had a separate pasture on D.W.'s ranch, and neither had ever left their respective pastures. We found they weren't about to move now either. That just added to their endearing qualities, so those two bulls had to go.
On the next livestock auction sale day, our partner, Pat, managed to get one Charolais bull herded into the pens at D.W.'s place along with some cows. He sorted off the bull and got him into a trailer for the trip to the sale barn before the bull figured out what was happening. Having not been in a trailer in umpteen years, it took the bull a few miles before he knew what was going on. When he did figure it out, he expressed his displeasure by remodeling our stock trailer. That trailer has never quite been the same. It sort of limps down the road resembling a dog whose hind legs are trying to pass his front feet.
Charolais bull number two was a different matter and is the subject of my next column.
As usual, my wife was right. It's always the bulls.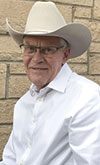 James Beckham

Writer
Commercial Angus Producer
Amarillo, Texas