Things happen. Situations change. Someone dies and that handshake deal you made 10 years ago is not worth the paper it is written on … oh wait, it's not written on paper!
We all know people are basically honest, except when they are not. That's why we have written contracts and door locks. Both are designed to keep honest people honest. Folks bent on not doing what they are supposed to do (or agreed to do) are going to ignore a contract and a lock anyway, figuring those are designed to keep someone else honest.
Nearly a decade ago, my family leased one our ranches to a son-in-law. Not long after, he became an ex-son-in-law. We had a straightforward written contract and a lease rate that was fair to both sides, so we continued the lease. Then things changed.
Among the things that changed were drought and a desire to expand the size of our cow herd. Both those situations necessitated more acreage, so I notified the ex-son-in-law that when his lease expired in seven months, I was taking back the ranch. As you might expect, the he was not happy about losing his lease.
As time got closer to the date he had to move off the ranch, I got to wondering about several things. What if the ranch house was left in bad shape? Did I have any recourse? What if the ex-son-in-law left junk that I had to haul off? What if he did not get completely moved out by the end date on the lease and he, or his stuff, was still on my property at the end of the lease? Who owned things that were left behind? Could I charge him for cleaning up the place? I really had no idea how to answer those questions, so I called a local attorney to ask about New Mexico law.
The attorney seemed surprised that we had a written lease, which may say something about many landowners in New Mexico. His other initial comment was that in New Mexico, lessors (the folks who own the land) have to give a lessee (the person who leases the land) a minimum of six months of notice to vacate regardless of what the lease document says. I dodged that bullet by notifying the ex-son-in-law seven months before the expiration of his lease. Avoiding that problem had nothing to do with my brilliant knowledge of New Mexico law. Instead, it was dumb luck and wanting to give the guy plenty of time to make arrangements to vacate the ranch that saved me potential grief. The lawyer had me send him a copy of the lease so he could review the contract and charge me a ridiculous hourly rate for his services.
After reducing my bank balance by the amount of the attorney fees, I now knew my rights when the ex-son-in-law and his attitude were off my ranch. Do you know your rights when not renewing a land lease in your state? Actually, the need to know the law applies whether you are leasing land to someone else or you are the one leasing land on which to run cattle. Let me recommend you spend some money to learn your legal rights in the state in which you are leasing land. Legal advice is not cheap, but a few hundred spent on a lawyer's time may save you thousands of dollars at the end of a lease.
Just remember – things happen and situations change. You need to know where you stand legally when that occurs.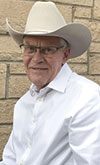 James Beckham

Writer
Commercial Angus Producer
Amarillo, Texas