Jeremiah is not a cowboy, nor does he aspire to be one. He spent enough time working on his neighbor's little dairy as a kid to know he'd met what he figured to be his lifetime's quota of cow duty. That's not to say he isn't happy and more than willing to help when he can; he just doesn't pretend to be something he's not.
But he fits a spot in our family that sorely needs filling.
Though his mild, almost gentle disposition suggests otherwise, Jeremiah spent a few years in the Marine Corps. He said he just thought it was something he should do. He served multiple tours in the Middle East and, like many who've taken part in similar excursions, he saw and experienced things no kid should have to. Even so, he came out the other side changed – yet still the same.
Not too long ago, when he folded all 6 foot 6 inches of himself into the cab of my pickup as I headed out to check on some fences and reports of some cows on the loose, his real intent was not to help me splice some wire; rather, it was to officially and properly ask for my blessing (not my permission) when he asked my youngest daughter to marry him.
I judged him a fine catch and gladly offered my blessing and some unsolicited advice on how to handle my daughter, his future bride. I think he pretty much knew what he was getting into, but I submitted to him that my daughter could be pretty headstrong as she independently charged her way through life like Dick Butkus on a blitz. I mentioned that the gales of her strong will and free spirit might possibly cause some occasional collateral damage that may require some strong emotional wherewithal.
A week or two later, I was caught a little off guard when my daughter not-so-delicately chastised me for informing her beau she was "emotionally high maintenance." I could only sheepishly shrug my shoulders. And, while I was at first a little embarrassed and annoyed that I'd been ratted out, my chagrin quickly transitioned to gratitude.
I had figured my little nugget of fatherly advice would stay between me and Jeremiah. He, however, never gave a second thought about sharing the content of the discussion with his future wife. He already had more wisdom and savvy about matrimony than I had several years into the deal. He understood the true importance and value of trust and honesty – and where his most important allegiances should lie. It was then I really knew how good he was for my daughter and our family.
So you'll understand how I was stunned when I took a call from my wife a few weeks ago and heard through her sobs that Jeremiah had been diagnosed with cancer. Turns out, the back problems he's endured since his Marine days are more than a slipped disc or strained muscles. It's not our family's first experience with the rotten, merciless disease, but we've been blessed to see family members recover. Not everyone can say that.
Jeremiah's now going through chemotherapy. His strong, quiet, cheerful attitude belies his steel resolve. His wife and 2-year-old daughter are still the recipients of his honest, oak-tree-strong love and support. He faces his current challenge just as he faces the relentless wind that blows outside their Cheyenne home. He deals with it without complaint, and he's thankful for the good things.
There's a lot to be learned from my son-in-law and those like him. And, believe me, there are others like him. Take a minute to look around and find them. If you can't seem to find them, become one of those people yourself. Don't complain, and be thankful for the good things.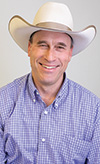 Paul Marchant

Writer
Progressive Forage