I had a free weekend, and I'd worked it out so I could help my dad move cows from one unit of the forest allotment to another. My folks had just bought the ranch in southern Idaho's Oakley Valley a year or two earlier while I was in college, and it would be several years before I would make that same ranch my permanent home.
At the time, I didn't really know any of the locals. Ed was one of the first natives I would meet. He was a horseman and an all-around gentleman, and had gladly volunteered to help ride and push cows for a couple of days. Ed had seen some hard times, physically, emotionally and financially, not the least of which was his survival of a plane crash a few years earlier. Since we were new to the country, he probably wasn't aware of the hex that was placed on many a venture which bore the Marchant brand.
The day's project had gone quite well, in part because it was relatively cool with a nice cover of clouds and a gentle breeze that accompanied us most of the day. It was late afternoon when we arrived back at the truck, at about the same time the heavens let loose with a nice summer thunderstorm. When I say truck, I don't mean a four-wheel-drive pickup with an 18-foot gooseneck; I mean a 1-ton bobtail with a wooden rack, designed to haul horses and cattle.
We backed up to the hillside and got the horses loaded without much trouble and headed down the mountain. The downpour lasted for nearly half-an-hour and turned the sorry excuse for a road into a treacherous, sloppy mess, which made for an unnerving descent. The wet mats on the floor of the truck bed made it nearly impossible for the horses to keep their feet and, when I stole a glance in the mirror, I could see they were scrambling and skating like a class of kindergartners on a slip-n-slide. In the midst of the chaos, one of the horses knocked a cantaloupe-sized hole in the corner of the floor of the truck bed. It was clear this was a mess and, if we wanted to make it home with every man and beast intact, we'd better change our tactics.
We eventually slid to a stop, where the decision was made to unload our cargo of horseflesh. We had no choice but to jump the horses out where we sat – which, in terms of potential compromises in animal welfare, wasn't a much better option than pinballing down the hill. The horses would be required to make a 3-and-a-half-foot leap down from a wet, slippery floor to the slimy, greasy ground below. Nevertheless, we figured the unloading option gave us slightly better odds of reaching the home place with fewer broken limbs or fatalities.
By the grace of heaven and some savvy cow ponies, we somehow managed to get all the horses unloaded with no greater injury than a couple of scraped-up shins. A couple of us took off down the hill with the horses while my dad made his way down the slippery two-track road with the truck, a journey made much easier and less treacherous without a load of panicked horses.
Throughout the whole fiasco phase of the day, I found myself – perhaps a result of anxiety or perhaps because of embarrassment – apologizing to Ed for the wreck we'd found ourselves in. I was grateful for his ever-calm demeanor and his matter-of-fact laughing off of the whole debacle. He said he'd been in worse scrapes and again and again reiterated how grateful he was to spend the day cowboying.
At Ed's funeral the other day, nearly 30 years after our shared slide down the mountain, I was reminded of his goodness and composure in the face of calamity. There was never a hint of despair or dismay. And I think that's how he lived his life. He rejoiced in the good things and life's small victories, and he found hope and faith in the adversity and the struggles. That's a legacy to emulate.
PHOTO: Southern Idaho's Oakley Valley. Photo by Mike Dixon.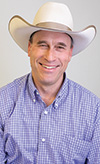 Paul Marchant

Writer
Progressive Cattle