It was the first week of December, which for me can be perhaps the most exasperating time of the entire year. While I love the feeling of the Christmas season as it begins to take over our consciousness, the short days and the long chores associated with that time of year tend to sometimes leave me a little surly.
On this particular evening, it was well after dark when I made it into the house. I was worn out and hungry, and my wife chided me for not letting her know when I'd be home. She made it clear, as she has done probably hundreds of times over past couple of decades, that she would have had some supper ready for me if I had just practiced a little common courtesy and communication, two of my lesser-practiced talents. In my usual charming and cantankerous manner, I told her I had to return a couple of phone calls I figured would take about a half-hour, and I'd be satisfied with a bowl of cereal. At that point, she reminded me I'd forgotten to pick up a gallon of milk when I came through town, so she guessed she'd oblige me with a hot supper, regardless of my attitude.
I settled into my bedroom office so the noise of the kitchen wouldn't interfere with my phone conversations. That's really code for "I want to prop myself up and stretch out on the bed, but I don't want to clean up before I make some calls." One of the cardinal sins at my house is to sit or lie on the clean bedspread with my dirty clothes. My hope was that my wife would be too preoccupied with her own chores and worries to catch me.
My first call was to a friend and fellow fair board member who'd just returned from the PRCA meetings held in conjunction with the National Finals Rodeo (NFR) in Vegas. I hadn't been able to attend and was kind of feeling sorry for myself for having missed out on what is usually a pretty good time (all in the name of community service, of course), accompanied by a boatload of useful information pertaining to putting on a decent fair and rodeo. It just so happened he was watching the pre-rodeo grand entry of round 5 of the NFR during our conversation.
All of a sudden, midconversation, he busted out into a genuine cowpoke guffaw born of an empathy that could only come from someone who'd experienced calamity similar to the one he was witnessing on the TV screen in front of him. I, without the aid of a visual screen, became a witness only through his oral play-by-play account of what was to become famous as "Wade Sundell's Grand Entry Wreck."
Wade Sundell is a farm kid, many-time NFR qualifier and former world champion saddle bronc rider out of Boxholm, Iowa. Just one night prior to his now-infamous misfortune, he'd scored 89.5 points to win round 4 of the NFR. On this night, however, the rodeo gods were not smiling on him. As the grand entry contingent of dozens of riders began to exit the Thomas & Mack Center arena, the big buckskin saddle horse under Sundell bogged his head and took two or three pretty rank jumps, sending the unsuspecting rider and the Iowa state flag he was packing up over the horse's neck. Wade, despite his considerable abilities as a world-class bronc rider, really had no chance. He did a complete somersault midair and landed hard, flat on his back.
To the considerable delight of his fellow contestants and the relief of the 16,000 rodeo fans in attendance that night, Sundell jumped to his feet, brushed the seat of his pants and waved to the crowd to indicate he was ok. But, as it turned out, all was not ok. As misfortune would have it, he'd fractured his spine. Though the injury was not completely debilitating, he'd miss the remainder of the NFR and be out of action for at least eight to 12 weeks. As bad as it was, it could have been much worse.
The irony of a big-time bronc rider getting smacked around by an old broke saddle horse, while being almost comical, lends itself to some provocative contemplation. As easy and tempting as it may be to slack off and take the good things for granted, the higher and more productive road always guides you elsewhere. You never know when or how something can be taken from you.
So I'd suggest you straighten up and get your act together. Call your wife if you're going to be late. Take your muddy boots off before you traipse across the living room. Do the best job you can, whether it's something as simple as feeding the calves or as grand as writing your thesis. If you're going to do it anyway, you might as well do it right, especially considering that even the broke ones can buck.
Paul Marchant is a cowboy and part-time freelance writer based in southern Idaho. Follow him on Twitter, or email Paul Marchant.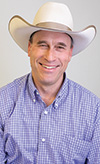 Paul Marchant

Writer
Progressive Forage