There's a funny thing about raising and chasing kids in farm and ranch country. Well, actually there's a whole pile of peculiar things about growing a crop of rural humans, but for now, I'll narrow my focus for the sake of a good story.
In my experience, which includes assisting in the oversight of three sons and two daughters from the time they were just pups until the tolling of five different wedding bells and beyond, I've discovered that quite often the best gifts and the toughest breaks are delivered in the same package.
To wit: A high school rodeo in the rain. And, of course, I'm not just talking about the rodeo performance, which is prone to make three hours seem like six. I'm talking about the slack that goes on for another endless couple of hours. In following some seemingly irrevocable natural law, my boys would draw team roping in the performance and calf roping in the slack, which would of course follow the barrel racing, which consisted of 50 (or so it seemed) aspiring Charmayne Jameses, running 25-second patterns. But when your kid wins the tie-down roping with an 18-second run in 6 inches of slop, the misery of the night can miraculously fade away.
Over time I've figured out, however, that it's a pretty poor strategy to root your happiness in something that may never come, like a winning run in the mud, for example. It just may be that your kid breaks the barrier and misses the calf at the far end of the arena anyway.
My girls were never much interested in the rodeo scene. I think they got their fill of the joys of cowboying from pushing cows up the alley at preg checking time. They were runners – distance runners, to be more precise. They somehow seemed to like it, and they were fairly adept at the tortuous events. It was cross country in the fall and track in the spring.
While a high school rodeo is the champion of drawn-out parental misery, a track meet isn't far behind. It's hours of watching a lot of mediocrity from other people's kids so you can watch your kid's superior averageness for a couple of minutes. And springtime in the Rockies and the high desert rarely does much to add to the pleasantness of the experience. At least at the rodeos I could make myself useful as a stable boy and keeper of the tack. At the track and cross country meets, I was mostly just there.
My oldest daughter seemed to be built for running. She made it to state her freshman year and seemed to be poised for a pretty decent high school career. She was improving as a sophomore and had high hopes for the year, but her hip started to bother her early in the cross-country season. Months later, we'd discover that she suffered from a fairly common ailment in high school-aged female athletes. I'm not savvy enough to remember exactly what it was, but it had something to do with the growth rate of the bone and muscle. It was painful, but with time, rest and therapy, she healed completely.
Anyway, at the time, she kept running, but all was not right. She went into track season as she nursed the hip along and tried to work through the pain, hoping she could at least complete the season. She literally limped through the season but was determined to finish it out, despite the disappointment of not competing at the level she'd hoped.
At the district finals meet, it was apparent she was hurting, and I debated with myself about keeping her from running in the 3,200-meter race, but she wanted to finish out the season, even if it wasn't at the state meet. After the first couple of laps, she fell woefully behind the leaders – and by the fourth lap, it was obvious she wouldn't be able to finish as she slowed to a walk and then to merely a crawl as she tried to finish what she'd started.
As she fell to her knees in tears, I made my way across the field and onto the track. She put her arms around my neck, and I picked her up and carried her back across the field as she laid her head on my shoulder and cried.
She didn't run her junior year, and although she started up again as a senior, she never again found the stride that held so much promise for her just a couple short years earlier. And although it was probably her biggest disappointment as a runner, her worst race was my favorite race. During a time in our lives when the waters were often rough, and a daughter and her dad may not have really understood each other, those couple of minutes when I carried her across a small-town football field, and neither of us had an answer for the tears of disappointment, proved to be minutes that served as a healing, calming and soothing balm.
She never won another race, but her toughest break was one of our greatest gifts. Sometimes life happens that way.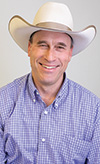 Paul

Marchant
Writer
Progressive Cattle
Paul Marchant is a cowboy and part-time freelance writer based in southern Idaho. Follow him on Twitter, or email Paul Marchant.