Jerry is as good as they come. He seems to always be happy and friendly. He makes toys. Jerry is a happy toymaker. As a matter of fact, his business is called The Happy Toymaker. His toys aren't just any toys, mind you.
He makes big, custom-made, authentic, sturdy ranch toys: trucks, chutes, round pens, alleys, corrals, horses, cows, bulls, roping steers and anything else that is seriously and genuinely "ranchy." Jerry is a Texan, and I first met him in Texas several years ago. Since then, I've seen him at cattle conventions and ag trade shows in various locales across the country.
The last time I saw him was in October in Billings, Montana. During the course of our conversation, he wondered if I might reside in the vicinity of someone he'd met at the bucking horse sale in Miles City. He'd made a nice ranch set for her and needed to get it to her before Christmas. He knew her home was in Nevada somewhere and, after some cowboy detective work, we discovered she lived in Elko County, specifically just outside of Wells.
How fortuitous. Wells is well within my reach. My mother was raised in Clover Valley, just south of Wells, and I have cousins who live there. And the chances were pretty good any ranch family near Wells would occasionally have business to attend to in Twin Falls, just over an hour from my home.
I eventually got in touch with Kelli, the energetic mother of a lucky 2-year-old who was set to have a spectacular Christmas morning if I could only be successful in my role as Santa's elf and get the ranch set delivered. I had to make a trip to Las Vegas to the PRCA meetings, in advance of the NFR, the first week of December. I called Kelli and we arranged to meet at Bella's, the diner on the southwest corner of the intersection at the stop sign where Highway 93 enters town.
There are only about 1,200 people who call Wells home. Pretty much anyone who's ever been through Wells knows the layout of the town. There's not really much to memorize. Everybody knows Bella's. Everyone also knows there are two businesses in Wells known by that name.
One is the aforementioned diner. The other is an establishment that deals in one of the two vices legal in much of the state of Nevada. The Bella's that sits near the northeast corner of town, next to Donna's Ranch, isn't a casino, and it most certainly ain't a family diner.
As I got within a few miles of Wells and could see I had cellphone service, I called Kelli and told her I'd meet her outside of Bella's in 10 minutes. Ten minutes later, I pulled up behind Bella's. I could only see two cars in the snow-covered gravel pit that served as the parking lot. It just so happened I was also delivering an Idaho shag x border collie puppy to my cousin in southern Nevada.
So I got the pup out of her cardboard box and gave her a drink and let her take care of her business as I waited for Kelli. Presently, my phone rang. It was Kelli. She wondered if she had misunderstood when I described my car to her. It was about this time the light above my head came on. I was at the wrong Bella's. I stumbled all over myself as I explained to her I'd be there in three minutes.
As I parked and stepped out of the car to greet Kelli in front of Bella's diner, it was immediately apparent she was a true daughter of the Great Basin ranch country. She gushed over the puppy, and I have no doubt she'll get more joy from Jerry's red semi and Powder River green crowding tub and alley than her toddler son ever will.
My detour and unintended visit to one of the crown jewels of the Wells Chamber of Commerce didn't faze her in the least. There was, however, an unmistakable, mischievous high-desert sparkle in her eye as she bade me farewell and noted that, next time I get through town, I should really step inside Bella's. She said they have amazing tarts.
PHOTO: Paul Marchant with his puppies. Photo provided by Paul Marchant.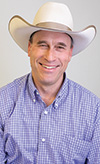 Paul Marchant

Writer
Progressive Cattleman