The sun was just about to sink behind the western hills when I finished up the chores and kicked off my boots on the back porch. It had been a pretty good day – high 60s and sunny – probably the nicest day we'd had in the calendar year, up to that point.
We'd just finished up with the last branding of the spring. Things had actually gone quite well. A couple of my sons had come home for the day to help, and a few friends and neighbors had stopped by with their hoops and horses to rope 'em and drag 'em to the fire. We'd gotten an early start; sorting had gone off without a hitch and we'd branded somewhere around 200 head by noon.
I should have been in a fine mood, but I couldn't shake the little cloud of melancholy hanging over my head and following my every step. The welcome and prayed-for rain of the last 10 days, coupled with a little bit of sunshine, had finally coaxed enough green grass out of hiding to convince me to turn most of the cows out. It hadn't come quick enough, though, to save me from needing to buy a couple loads of $300 hay a month earlier. It hadn't been a killer of a winter, but it had been cold enough, and dragged on long enough, to force me to go through more hay than I had hoped to use. The weather and the cost of doing cow business had forced my hand – and as much as I hated it, I'd ended up cheating the cows a little bit. They came out of winter looking a little rough, and the calves were a bit too ratty-looking for my liking. I was kind of worn down, and even though I knew green grass and warmer weather would slick up the critters and mostly cure my woes, I couldn't help but feel a little ashamed.
I cleaned myself up and settled down in the big old, comfortable chair in the living room. I hadn't really checked my phone all day, so I picked it up and scrolled through and answered a few messages before I took a dip into the social media pool. One of the first notifications that came up was a post from my good friend Bruce, who'd been there at the day's branding party.
Bruce and I have been friends for years, since way back in our feedlot days. He's seen me on my best and my worst cowboying days, and he is still willing to help me with day work whenever I call. We keep in pretty close touch with each other, in part so we can keep each other honest on any of the buckaroo lies that may need an occasional retelling and retooling.
Bruce is pretty handy in the branding pen or the sorting alley, but he also is surprisingly talented when armed with the camera on his phone. His social media posts are easily some of my favorites. He has a particular talent to appreciate and capture the normally mundane and unnoticed from a unique perspective and share it with those of us who spend too much of our time "unnoticing" and ignoring the inconspicuously obvious wonder of our surroundings.
On this day, he had naturally posted some pictures and captions of the day's branding at my place. Where I saw too much brush and too little grass, Bruce found an oasis in the little creek that meandered through the draw. Where I saw a calf that was too young on a cow that was too old, he saw the annual renewal of the circle of life. Where I saw a run-down old log tack shed, he saw the marvel of pioneer ingenuity.
Now, I realize that photographic filters, coupled with a little naivete and nostalgia, can certainly brighten the tint in the rose-colored glasses. But I also have to acknowledge that pessimism and negativity can just as easily distort the view from even the nicest picture window. Thank goodness for people like Bruce – who cross my path every once in a while to clean my windows and refresh my perspective.
ILLUSTRATION: Illustration by Ray Merritt.
Paul Marchant is a cowboy and part-time freelance writer based in southern Idaho. Follow him on Twitter, or email Paul Marchant.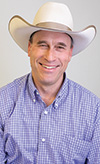 Paul

Marchant
Writer
Progressive Forage