Way back when I was in grade school, one of the biggest events of the year was the science fair for the fifth- and sixth-graders.
Every kid in the school walked through and watched and listened to the presentations one afternoon during a designated school day, and parents and the public attended that evening. From the time I was in kindergarten and walked through my first science fair, I knew what subject I wanted when I got my turn in what seemed to be the far-off future.
Beef cows were always my passion, so when I got my chance as an eager and geekishly charming sixth-grader, I put my whole heart into the project. I had my script memorized and my presentation technique as polished as a northern Arizona turquoise necklace. (If only I'd had such zeal as a less-than-stellar college student.)
It was back in the day when Herfies still ruled the world. I could tell you all about Warren Gammon and how he developed the Polled Hereford breed. I loved the story of the King Ranch Gerts and how they laid claim to the title of first true American breed. Continental cattle were just starting to make some real noise, and I was enthralled with the novelty and the variety they offered. But perhaps the philosophy which most intrigued me was that of Tom Lasater as he worked to develop the Beefmaster breed, with his "six essential" traits and the proclamation that hide color doesn't matter when the T-bone is on the platter.
To this day, I still haven't been around a lot of Beefmaster cattle, but we did have one Beefmaster cow that came with a load of cows we bought out of southern Utah 25 or so years ago. Coincidentally, one of her calves was the first 4-H show steer of my oldest son, the first of somewhere around 100 4-H and FFA steer projects we went through. (I haven't done all the math, but the first part of the equation is five kids.) He was a moderate, stout, square-made chunk whose solid color and lack of any extra sheath, ear or brisket belied his bottom-side pedigree and thus spared him any prejudice which he may have otherwise been subjected to in the show ring. That particular steer ended up fourth place overall in a big, competitive county fair show, and he was at the top end when he hung on the rail, as well.
I always figured the relative success of that little black steer kind of validated old Tom Lasater's philosophies. But frankly, with the way the world's spinning these days, I think I'm just confused. Who would have guessed a simple ranch-raised calf out of an average old Beefmaster cow and by a nondescript Limousin bull would admirably compete in the beauty contest and still hang a high-Choice, Yield Grade 2 carcass? If that little steer had shown a little more of his mama's heritage in his hair color, his ear or his dewlap, in all likelihood he would not have stood at the top end of his class. Would that have diminished his value, regardless of what was under his hide?
It's a tricky question, one you're probably a little leery of answering, especially if you're unsure of who may be listening. It can be answered in more than one way. Sure, his value is diminished to the exhibitor if he's buried at the bottom of the class, gets a red ribbon and sells at the end of the sale order. But wait, there's more. To the floor buyer who gets that calf at a dollar or two below market and sees the premiums add up because of a superior carcass, he's worth a lot more than the winner of class 3 that turned out to be a Select dark cutter.
Now, kids, ladies and gents, there's much to be learned here. For starters, if you want to learn how to handle disappointment, jump into the world of youth livestock shows on any level. It's more frustrating than golfing with a stick. The good ones can win and the good ones can lose. But that doesn't mean you shouldn't do it. It's fun to win and it's good to know you can survive losing.
I wanted this to be about more than a cute story about my grade school science fair or my kid's first steer. I wanted it to be more than a quaint life lesson about winning and losing and handling disappointment. I wanted to sum up human sociology and race relations and what's right and what's wrong with the world in a neat little 900-word package by simply telling you it's what's inside that really matters, you can't judge a book by its cover, and we can overcome what ails us.
But I can't. I couldn't do it in 900 pages or 900 volumes of 900-page books. I, like you I suppose, am angry and confused and tired and overwhelmingly sad over so many things and so many people. Such times can make us prone to despair. But please don't give in to despair. I can't fix Chicago or Minneapolis, but I can fix the gate in the north 40, and I can be decent to my family and my friends and those in my corner of the world. I can start somewhere. So can you.
Paul Marchant is a cowboy and part-time freelance writer based in southern Idaho. Follow him on Twitter, or email Paul Marchant.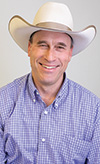 Paul Marchant

Writer
Progressive Cattle