Two roads diverged in a wood, and I –
I took the one less traveled by,
And that has made all the difference.
—Robert Frost
The day we were set to start gathering cows off the mountain this fall was a wet, miserable day. So wet and miserable, as a matter of fact, that we decided to postpone the festivities for a day. The next appointed day was even worse. Not only would it be impossible to drag trailers up the muddy, impassable roads, but the rain had turned to snow.
At the home place, there was mostly just slushy snow-like rain or rain-like snow. Half a mile from the house, however, as the elevation increased, so did the snow level. Three miles farther up the hill, at the closest gate to the Forest Service allotment, there was nearly four inches of snow.
My neighbor offered me a ride on his ATV side-by-side, and we made our way up to the gate, where we came upon a scene reminiscent of a Denver soup kitchen in January. Somewhere around 150 cows and calves were piled up at the gate, eager to get down to lower country and easier pickings.
As the sound of the ATV's engine echoed up the draws, the sidehills came alive with the movement of cows heading for home. Mother Nature's "Great White Cowboy" had punched in just in time and made for one of the easiest fall gathers in years.
Of course, we still had to ride the foothills a few more times to gather up the more hardy and belligerent holdouts, but most of the high country had been gathered without so much as one worn-out pony.
A couple days after the initial gather and sort, I got news that we had a couple pairs that had trailed off the east side of the mountain and were penned up in Ward's corral, on the other side of Elba Pass. As it turned out, I had a Sheridan cow that had come off on our side and needed a ride back home.
I figured I'd do the neighborly thing and make a one-for-two trade. I had to fetch my cows anyway, so I'd just take the Sheridan cow to Almo, on my way to Elba. I got an early start and made my way through the south pass down into the Silent City of Rocks and had the Sheridan critters unloaded by quarter after 8. I headed over to Elba and, 45 minutes later, had my three pairs loaded and was ready for my trek back home.
Here is where my decision-making skills were tested. I had a few different options regarding my return trip. Number one: I could go back the same way I came, through the City of Rocks. That would take me a little over an hour to get home. Number two: I could head back through Elba, hit the Malta highway, thence, up over the Albion highway, hit 500 South for seven miles to the Oakley highway, which would lead me to Oakley, 15 miles down the road, where I'd turn left, and 7 miles later, I'd dump my bovine cargo in the hayfield.
This is a pretty safe, albeit 60-plus-mile drive. Number three: I could head up over Elba Pass. From the Ward corrals, I was only about 14 miles from home. This road is a switchback-riddled dirt road, completely impassable in the winter. The top of the pass is probably at about 7,500 feet in elevation. I knew there was snow up there, but how bad could it possibly be?
Intrepid, brave soul that I am, I decided to take the road less traveled. I made it about 2 1/2 miles up the road before I hit snow – and not just a little snow. Before I knew it, I found myself in 8 inches of wet snow, on a rough, slick road with no turn-around options.
I couldn't go forward and I couldn't back the trailer up without the very real possibility of slipping completely off the road, in which case, it would have been nearly impossible to pull the truck and trailer back onto the road.
Miraculously, a deer hunter, whose truck had brand-new mudders on the rims, came down the road and helped me pull the pickup out from under the gooseneck trailer. I backed down the hill to a spot where I could get cell service and called my Good Samaritan brother-in-law, who is not completely unfamiliar with my rescue-worthy predicaments.
He and my dad gathered up some tire chains and came over the mountain to rescue the dork-in-distress. With some luck and a good dose of farmer ingenuity, we eventually made it home with the cows – about six hours later than I had intended.
Robert Frost penned it and George Strait crooned about it.
"And it might all come together, and it all might come unraveled – on the road less traveled. …"
I've had some experience on that road. I've discovered, though, that the unraveling and the coming together are not mutually exclusive. As often as not, it all has to come unraveled before it can all come together.
Sometimes that less-traveled road leads to a train wreck before it rounds the bend to the Promised Land. You may find a stricken, battered, lonely traveler in that wreck, in need of saving. That traveler may even be you.
It's a good time of year to reflect on the One who traveled the road completely alone, whose purpose it was to find and rescue all of us who need help on or across every one of life's difficult and treacherous roads and trails.
May we all do our best to follow His footsteps down the road less traveled.
Merry Christmas.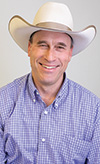 Paul Marchant

Writer
Progressive Cattleman