For as long as I can remember, I've been surrounded by critters – and for this discussion, by critters I mean horses and dogs. As a matter of fact, it's somehow been ingrained in my psyche that it's an absolute necessity to have at least two dogs and two horses around at all times. And by two, I really mean too – as in too many.
Unlike the seemingly thousands of experts littering every form of social media, I'll never be mistaken for any sort of canine savant or horse whisperer. I mean, really, who among us in the modern world of agriculture hasn't seen the videos of the buckaroo or super-puncher loading up a passel of yearlings into a 20-foot trailer with help from nobody save the three lightning-quick border collies reacting to his subtle whistle commands? That's to say nothing of the Parelli and Brannaman disciples or the polished two-rein vaqueros who can lay down a 6-foot set of elevens or bore an 8-inch-deep hole in the arena sand with the slightest touch to their picture-perfect sit-n-spin mounts.
I don't mean any disrespect to these virtuosos – quite the opposite. I'm in awe of those who possess the mental fortitude and poise to master their respective crafts. I've spent my entire life around mutts and hay burners, and I know such remarkable talents are useless without painstaking cultivation.
I'm not completely useless, mind you. I've been around enough genuine horsemen to glean a few gems here and there. I can get a good enough handle on a colt to open and close a good gate that swings or get by in the branding and sorting pen without causing any major wrecks. My dogs usually jump in the truck when I ask them, and they know enough to get after a cow when my voice gets high or I start to cuss.
Now, to my point. Currently, there are four dogs that reside at my place. Yes, that's too many.
1. Newt is almost 12 years old and has never been much good to me. I have absolutely no handle on him, but every once in a rare while he'll accidentally be in the right spot.
2. Goose is a nice little Idaho shag who's earned her keep. Through no doing of mine, she's a pretty savvy cow dog. She's semi-aggressive on the heel end, and for the most part, I can put her where I need her.
3. Hercules is from Goose's first litter. We sold his littermates, but my youngest son begged us to keep a pup for him. Of course, in the meantime, my son moved away and got married. Hercules is still here – imagine that. He's big and lovable, but he's not really into working.
4. Deets – as in Joshua from Lonesome Dove – is dog number four. He's about 7 months old and is out of Goose's last litter. We didn't really want or need another dog, but judging from what we know of his pappy, figure him to eventually be a partially useful stock dog. Since Newt's got some age on him and Hercules may one day find his way to his rightful home, we bit the bullet and kept a fourth dog.
The pup has shown to be a quick study. He wants to work cows, he comes when I whistle, and he learned in a hurry to jump on the flatbed. That's pretty much my training regimen. This was looking to be a not-so-stupid move. I've had no real complaints about Deets – until our little mishap.
I'd finished the feeding and had loaded a ton bale on the back of the flatbed for the next morning. With hay on the truck, there's only about a foot of space on the edge of the bed for the dogs to ride. As I slowed down and turned into the driveway, Deets lost his footing on the slick truck bed and went rolling, tail over tea kettle, into the snow. There wasn't enough speed involved to really hurt him, and I gave him some props and some proper doggy attention to ease his wounded pride.
I thought that was that. But I was wrong. After his unscheduled dismount, the pup refused to jump on the flatbed. My initial reaction was exasperation and a touch of anger. My subsequent response was to grab him by the scruff of the neck and "help" him onto the truck while I made mention of his relationship to his mother. I soon learned my Neanderthal training methods lacked any sort of effectiveness. Believe it or not, it only made matters worse.
It took a couple of days and an abundance of self-restraint to eventually convince myself to rethink my approach. Little Deets had zero positive response to my negativity. Over a period of several days, I learned that if I, with a kind tone in my voice, coaxed him along and walked with him to the edge of the truck, he'd eventually jump on. If I rewarded him with a brisk rub on the ribs and an accompanying "atta boy," he seemed to cheer right up. After a time, he finally seemed to let go of his apparent fear of the flatbed.
My little dog training awakening, as primitive as it may have been, led to a regretful realization. I know a person is not a dog, which makes some of my past actions seem even more disappointing. When I think of how many times my kids got cussed for sorting a cow the wrong way or leaving a light on or forgetting to feed the horses, I marvel that they turned into productive citizens.
I know a sharp word and a kick in the rear is sometimes required, but not always. Too many or too much of anything is not a license for bad behavior. Perhaps a kind word to follow up a jab from the hotshot just might aid in the response. And maybe, just maybe, patience is a virtue that rewards itself.
Paul Marchant is a cowboy and part-time freelance writer based in southern Idaho. Follow him on Twitter, or email Paul Marchant.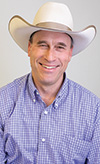 Paul

Marchant
Writer
Progressive Forage