It's no secret to anyone that grief, death and loss are unavoidable byproducts of life. With every revolution of the blue orb and with each trip we make around the sun, the likelihood of encountering pain, in one or many of its infinite forms, is ever greater.
The passing last week of my 83-year-old neighbor again gave me pause and caused me to reflect on life, grief, compassion and what in the world I've done with the few decades I've been granted in this existence.
The past several months had been pretty rough on Bruce, my departed neighbor. He certainly hadn't been able to relish his life on the ranch as he had for the previous 75-plus years, and I've little doubt he's found some relief in that proverbial "better place, where the creek runs clean and the grass is green and stirrup-high." With his passing have come thoughts of friends and family of mine who've also recently passed and the influences and impacts their lives – and their deaths – had on those who knew them.
Andy, the well-read cowboy whose tales of Sasquatch, colonoscopies and West Coast Wagyus grew more outlandish, yet believable, with each telling and each shot of Pendleton, succumbed to a faulty ticker. The words selfish or unkind were never within a mile of Andy's reputation.
Stan, the bovine reproduction wizard whose daily proclamation of "It's a great day to be a cowboy" resounds with everyone who's ever cussed or loved a cow, left behind an adoring wife and daughter along with a host of cow people from Florida to Oregon, each one of them sure in their belief that they were his best friend.
Joan, the plucky, five-foot-in-heels home economist extension agent lost a best-of-three series with cancer. Her veil of influence will forever hang on the shoulders of a generation of southern Idaho kids like a kelly green 4-H Superman cape.
My cousin, Steven, whose life path was littered with nothing but service, kindness, hard work and good deeds, rarely if ever complained about the unfair hand he was dealt when his internal organs inexplicably quit early on him. His legacy of goodness shines on through his family, who seemed to inherit his charitable disposition.
When my 29-year-old nephew, Corbin, was tragically killed in a tree trimming accident, a shocked community rallied around his young, pregnant wife and their toddler son. His life story of passion, forgiveness, redemption and compassion became a beacon for any soul, lost or otherwise, who made the effort to listen.
The tiny burg of Elba, Idaho, was rocked when, just weeks before the county fair this year, 11-year-old Sean Loughmiller died in a four-wheeler accident as he was gathering cows for his dad. As I'm sure would be the case in any rural county from New Hampshire to New Mexico, residents wanted and needed to deal with the grief – not only the family's but their own individual and collective pain as well.
Though it would have been easier and definitely more within the realm of their comfort to stay home and privately deal with their heartache, Sean's family chose to selflessly ignore their own despair and lift the burden of grief, borne by an entire county, as they agreed to allow his 4-H steer to be exhibited at the fair and auctioned off after the market animal sale.
In a county where the vast majority of capital is generated by agriculture, families and small businesses, who had already generously donated hundreds of thousands of dollars to support 339 4-H and FFA kids and their livestock projects, donated over $63,000 as Sean's steer was bought and sold 13 times. The outpouring of kindness and generosity was overwhelming, as people supported with donations large and small, giving and supporting the healing as best as they knew how.
But … what happens now? Now that we've donated and given and offered genuine condolences, can we put a checkmark next to that task on our list? Maybe we can. I don't know the best answer. Never should the honest intent of someone's generosity ever be questioned. I'd like to have five minutes with Sean or Corbin or Steven or Joan or Stan today. Do you suppose their perspectives now could lend me some insight into how I should carry on here every day – the good days and the bad days? I don't know for sure, but here's what I think they might say:
Love your family every day, no matter what kind of a day you've had.


Be humble.


Be honest.


Be kind to everyone.


If you're mad, don't talk.


Give. Every day. More important than your money is your honest heart.


Care about how what you say or what you do will make someone else feel.


Serve those you love and love those you serve. If you don't love them, serve them until you do. If they don't like you, serve them and love them anyway.


If you follow your conscience, you're probably headed in the right direction.


It really does matter how you "play the game."


You will screw up. You will make mistakes. Never stop trying to fix them.


You're never too far down the wrong road to come back.


Do the right thing. You know what it is.
Every day is a great day to be a cowboy.
If you're hearing voices from the other side, and they're saying something like this, go ahead and keep listening. I'm pretty sure they know what they're talking about.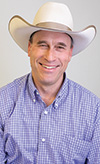 Paul Marchant

Writer
Progressive Cattle