At sunrise, just a couple of days after Groundhog Day, I heard a comfortably familiar yet startling sound. Just outside the back door, 20 feet up in the bare poplar tree, two or three dozen blackbirds were chirping away as if they were welcoming May Day to the first week of February.
Aside from the mud I'd have to deal with when I fed, and wind expected that afternoon, it was shaping up to be a pretty nice day – almost spring-like.
Temperatures hadn't even dipped below freezing the previous night and, as I ventured out to tackle the day, I made a bold decision: I'd forgo one layer of my normal winter garb. I was leaving the vest in the closet. It was a daring fashion statement, indeed, for so early in the year. As I walked under the tree and past the misguided harbingers of an early spring, the birds all took flight, in search of another landing spot with perhaps a smaller chance of human interruption.
"Stupid birds," I thought. I was fairly certain they'd be singing a different tune, or no tune at all, in a day or two. I was sure winter would return. My first calf wouldn't arrive for three or four weeks, and Ol' Man Dub (That's my hip-hop name for Mr. Winter. We have an understanding, and he's cool with it) surely wasn't ready to give up just yet. He always plays a little havoc with my calving season. And, truth be told, I wasn't quite ready to be freed from his grip, anyway. As much as I whine and complain about winter, the season actually offers me a few protections – immunity, if you will.
I was reminded of this as I made my way to feed the bulls and tripped over the leftovers of the leg of a long-since-departed old cow, a treasure one of the dogs had dragged into the front yard. Naturally, as I avoided the bone, I stepped in another byproduct of my inexplicable need to always have an untrainable pup around the place. That's one of the big three of fecal material I don't want to step in, the other two being the refuse of pigs and cats.
Nope, true to my procrastinating nature, I wasn't ready for spring just yet. Besides my disdain for flies and mosquitoes, I still needed winter's blanket to continue to mask some of my more visible flaws. Shocking as it may be to you, gentle reader, my place tends to be a bit untidy at times. Mista' Dub, with his frozen ground and beautiful white blanket of snow, is my Maybelline Full Cover Foundation to the teenager's zit that is too often my yard and corrals before a good spring cleaning. With a good cover of snow, it's as if the critter bones and the canine dung didn't exist at all. Winter allows me to procrastinate and look good doing it.
Just in case you haven't figured it out on your own, allow me to offer you a tip. That's not a real good recipe for success. With all my experience in slothfulness and avoidance, I've come to realize it's not a pleasant existence. Deception and denial are fickle mistresses.
They offer nothing but the promise of more regret for every tomorrow you push away from today. Although the frost belies the mud you'll have to slog through before the fields and hills turn green and beautiful, and the pristine blanket of snow hides the trash in the yard, winter (like procrastination or deception) is no substitute for responsibility. The skeletons rarely stay hidden in the closet forever.
If you're wondering, Ol' Man Dub came back the next day with 10 inches of snow and temperatures in the teens. I don't know where the blackbirds went, but I can take a little pride in knowing when they come back to the poplar tree behind the house, the bones will be absent from the yard.
PHOTO: The dogs enjoy winter at Chateau Marchant. Photo by Paul Marchant.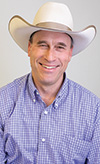 Paul Marchant

Writer
Progressive Cattleman