It was a rarity, but I was actually on schedule – not ahead of schedule but on schedule nonetheless. Somehow, I wasn't running late. The morning feeding was done, the weather was cooperating, and there was a chance I'd make it to the sale yard in time for lunch before the bull sale.
This was a pretty easy assignment. I was on my way to work the ring at the Sheridan Ranch bull sale in Burley, some 30 miles from home. The glow plugs weren't working on the newer pickup, so I didn't even bother with it. I jumped in the older version and headed for town.
Three miles down the road, however, things returned to normal. Well, my normal, anyway. The old truck started to sputter and lose power. I don't know if it was bad diesel or faulty injectors or the uncertainty of the export market, but something was awry. I turned around at the first wide spot in the road and limped home. Any advantage I'd had with the clock was now gone with the wind.
I rushed into the house and grabbed the keys to the old car. I'd leave a trail of oil all the way to Burley, but I figured I was good for at least 60 miles. My wife rolled her eyes as I made the key switch and tossed out a weak "I told you so" in reference to my procrastination on any number of subjects that were applicable to this particular situation.
I fired up the old Taurus and sped down the road. I still had time to make it to the presale meeting with the auctioneer, but my free sale lunch was out of the question.
Five miles into my renewed journey, I arrived at the intersection of Basin Road and Highway 27. A stop sign sits on each corner of this particular intersection. If my recollection of Idaho traffic law is correct, a vehicle is required to come to a complete stop at any stop sign, four-way or otherwise, regardless of the traffic or the driver's tardiness.
As I rolled up to the intersection, I could clearly see there were no other vehicles present, so I flipped my right turn signal and continued on my way, kind of ignoring the stop part of the stop sign. I wasn't breaking the speed limit so no harm, no foul, I thought. I hadn't rolled 30 yards past the intersection when I noticed a friend of mine waving his arms at me and making some kind of unrecognizable hand signals.
"Geez," I thought. "I'm already late. I wonder what he wants."
I figured, however, I probably should stop. I thought maybe my trunk was open or I was dragging a dog behind me. As I rolled my window down and eased on up next to my seemingly distraught neighbor, I was soon made aware of what was vexing him. In something that was a cross between a gentle dressing down and a profanity-laced tirade, he informed me I hadn't come to a complete stop at the stop sign. All I could do was acknowledge his keen observation skills, admit he was right and be on my way. I didn't have time to do much more.
As is usually the case with such situations, several emotions simultaneously invaded my consciousness as I hurried down the road. I was at once defensive, supremely embarrassed and a little ticked off. Surely there was little reason for my fellow citizen to blitz me with such indignation over a minor incident that caused harm to nobody.
On the other hand, however, I was completely in the wrong and, had one of Cassia County's finest been parked across the road, I surely would have been ticketed for my violation. On the other, other hand, if a sheriff's car had been in the vicinity, I would have been sure to come to a complete stop.
All of this led to a little bit of forced soul searching. First of all, it doesn't speak too well of me if I feel obligated to do the right thing only if I know someone is watching or I may be rewarded or penalized as a result of my action. Doing the right thing should be its own reward.
The second and most persistent and aggravating burr that really wouldn't leave me alone was the realization that, in many ways, I'm only as good as my most recent act. That's potentially very troubling. I'm reasonably sure the gentleman who took me to task for my traffic faux pas knows I'm a better citizen than I showed that day, just as I know there's much more to him than the surly guy on the corner looking to humiliate anyone who rolls through an empty intersection.
But what if that's all he knew of me and that's all I knew of him? Both are incomplete, if not completely inaccurate, images of who we truly are. Yet, if that's all we knew of each other, that's how we'd be defined in each other's minds.
It was a pretty enlightening kick in the drawers. Thankfully, there's usually another day and another chance to redeem myself from my idiotic tendencies. But it's a pretty good reminder to always try to make your next move better than your last.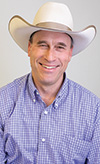 Paul Marchant

Writer
Progressive Cattleman