Applied approach to scientific technology boosts Quarter Circle U Ranch
Cattle ranching, as the old idiom might say, isn't exactly rocket science. But rocket scientists do make great cattle ranchers.
Charles Backus, the Arizona cattleman applying a bold scientific approach to raising profitable herds, brings a unique background and viewpoint to the ranch lifestyle. If it's something you love, it's worth improving.
Backus, 80, purchased the Quarter Circle U Ranch with his wife, Judy, more than 40 years ago and has fine-tuned the herd's genetics to withstand the hardened landscape and intense heat of Arizona's Superstition Mountains while still delivering high-grade-carcass beef on the grid.
Whether it's by shifting to tighter calving seasons, adopting early A.I. technology or moving to more intensive feed conversion models, Backus sees the ranch as a data-driven laboratory helping the beef industry move to more sustainable outcomes.
Backus spent most of his career as a scientific engineer. He was raised on a dairy farm in West Virginia and studied mechanical engineering at Ohio University. Thanks to a sparked interest in the space race of the '50s, he found himself at the University of Arizona and earned two graduate degrees in nuclear engineering.
After a few years of research and studies for various university labs, and a variety of experiments used on NASA space missions, Backus taught engineering at Arizona State University. Several years later, he and his family opted to establish some ranching roots in the mountains an hour east of Phoenix.
And, like that, his scientific acumen used during the Cold War was being used to raise cattle in the Arizona heat.
A different cattle range
Remotely located in high desert terrain, the ranch lacked electricity and water. Backus went to work tackling those challenges with an engineer's mindset.
"We became the first solar-powered ranch back in '79 because that was my area of expertise," says Backus, whose early research was solar energy. Water tanks and poly water lines were then installed strategically throughout the ranch's remote territory of private and state-lease lands. The commercial cattle herd was able to more easily navigate the surroundings and begin to thrive.
This is high saddle country, where ATVs and side-by-side vehicles are left behind for working horses. In addition to desert landscapes, cacti and rocky terrain, there are reptiles and wildlife posing a steady threat to cattle.
Water and power weren't the only infrastructure the Quarter Circle U Ranch needed to alter. Calving in January and February were always traditionally easy. "I've not assisted in a birth in 40 years," Backus explains. "They're all born in remote canyons." But the harsh Arizona summers take a toll on cows and new calves.
Backus bought a Forest Service grazing allotment in northern Arizona around 18 years ago. "So I take the cows up there for summer pasture, which is easier on them and better than the harsh summer of the Superstitions."
"They do have a softer summer life," he adds. But whether in summer or winter, the mountain terrain is hard on feet for the entire herd.
He also tightened his breeding window, keeping service bulls in easier terrain in the months before cows head north. "That way, I could put my bulls in the least demanding pastures during those three months. And I don't have to have the bulls in back canyons and mountains putting up with adverse conditions."
Backus found his herd lacked a genetic component that would help him and the ranch flourish.
"I raised Brahman-cross cows, like everyone else in Arizona," Backus says. "There's an unwritten view that you have to have a lot of ear in cattle to survive in Arizona. So I had Brahman-crossed cows for 30 years.
"The Brahman-crossed calves lived a long time. I had peace and longevity, just poor carcasses."
Backus began applying the data-driven ideal you can design the cows by selection. Rather than buy bulls and heifers that match his ranch's environment, he would use the genetics to build the bulls and cows that deliver calves not just to survive but pay off in carcass quality.
"It was only after I retired from the university I studied the industry and decided the future was in high-quality-carcass calves. I decided I was going to have to change my entire herd to Angus-based, where you get carcass premiums."
Turning to A.I.
The real progress in data-driven performance for Backus came with A.I. technology, which has steadily grown over the past two decades. Of his herd of 380 cows, close to 90 percent will be A.I.'ed in the course of the year.
The rapid changes necessary for genetics, marbling and phenotypic sturdiness wouldn't have been possible without A.I. technology being adopted throughout the operation.
"I make rapid progress with A.I. – that's the way to go. I get semen that best matches my criteria. If you buy a bull, you have to keep him three years to see an impact, and he only may have an impact of maybe 20 cows per year, so about 60 calves.
"But if I use one A.I. bull on 320 cows, that can make a rapid impact with a bull in one year. And you can change the bull every year to minimize in-breeding in your herd."
By utilizing A.I., Backus has improved the phenotypic strength of his cows that must endure rocky terrain, harsh heat and adverse conditions. "If one brings in outside cows and heifers, they usually die."
Backus utilizes three, sometimes four A.I. sessions during the breeding season, with half the herd in that first session. The success rate is 55 percent. Another two or three sessions are used to A.I. later-calving cows. After each A.I. session, all cows are turned in with cleanup bulls, but only half as many are required. The entire work is done in a few weeks, making a calving window tight and manageable – about three months.
Feed conversion
Backus also opts to retain calf ownership to the packing stage. He utilizes non-hormone, non-antibiotic programs as much as possible, with selection criteria focused heavily on marbling expected progeny differences.
Using a feedlot in Oklahoma for custom feeding, Backus then utilizes premiums set up, currently with Creekstone Farms in Kansas, at the processing stage. Last year, he says his steers graded 52 percent Prime and 94 percent Prime with Certified Angus Beef premiums.
As Backus started showing success and higher-graded calves, he turned his attention to a new goal of feed efficiency. During a tour of Eagle Pass Ranch in Highmore, South Dakota, Backus learned how the ranch was raising progeny specifically targeting performance at the bunk and lowering its feed-to-gain ration (pounds of feed needed to raise a pound of beef) from 6 to 1 down to 3 to 1.
Whereas the poultry industry delivers a 2-to-1 ratio, Backus sees this challenge as one that can define the progress of the beef industry. He trades and buys semen with Eagle Pass Ranch and uses it in yearling heifers and cows. He buys most of his live bulls from the Bar T Bar Ranch, in Arizona, that have been tested for feed efficiency.
As selection criteria, he uses the measured residual feed intake (RFI), with lower numbers indicating less intake necessary for maintenance and growth.
"When I buy bulls, I try to get them with a measured RFI of -5 to -7, which means they use 5 to 7 pounds less feed per day to do the average performance."
The feed conversion efficiency is exactly where the industry needs to make its moonshot initiative for improvement, Backus says. "It's very feasible that one could change the average U.S. herd conversion ratio efficiency from 7 to 3.5. That means it would take half the feed to raise the calves and feed the calf in the feedlot. If you look at all the feed used for raising and finishing calves, that's a huge reduction for beef production in the U.S."
Backus knows the industry's commitment to genetic data enables any producer to find the improvements his or her ranch needs, regardless of location.
"I have one of the roughest ranches in Arizona and, if I can raise quality-carcass calves in my country, other people can do it on their ranches. There has been tremendous progress in understanding cattle genetics in the last 10 years, and it is all available to every rancher if they are willing to try artificial insemination.
"One can almost design their own herd by using bulls that have the characteristics they want in their herd. The calves can be raised in their own country by the native mothers and thus be acclimated to that ranch's environment."
PHOTO 1: Chuck Backus retooled his genetics at the Quarter Circle U Ranch to handle heat and terrain in two different regions of Arizona. Photo by Derek Coates.
PHOTO 2: From left, Amy, Chuck, Judy and Beth Backus together at the Quarter Circle U Ranch about an hour away from Phoenix.
PHOTO 3: Chuck Backus commonly hosts open house visitors to his ranch, answering questions and explaining his production goals.
PHOTO 4: Chuck Backus checks cows near the ranch, which has rocky and thorny terrain and requires good-footed, hardy cattle. Photos courtesy of Certified Angus Beef.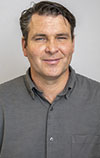 David Cooper

Managing Editor
Progressive Cattleman