Most ranches in the U.S. take sterling pride in their family name and tradition. The Neal Ranch in Louisiana is no different, but the name and tradition goes several ways – all of them reinforcing the other.
The family operates four companies spread among three main family members; the Neal Ranch – based outside St. Francisville, 30 minutes out of Baton Rouge, Louisiana – showcases an impressive herd of commercial and registered Brangus cattle along the Mississippi River.
Michael Neal and his wife, Lisa, own Midsouth Cattle Company, a registered Brangus seedstock herd with 150 registered cows. His brother Jarrod and his wife, Sally, work a commercial herd called Bayou State Cattle. Craig and his wife, Brenda, own C-B cattle. Together, both brothers work with their father, Craig Neal, operating Craig Neal and Sons Farms, also a commercial Brangus herd.
"Between all the operations, we breed 500 commercial heifers a year," Michael Neal says of the 1,500-head commercial herd. "The input for the cattle owned together in the commercial herd is collective, a reflection of everyone's ideas. We work together and plan daily operations as well as long-range planning." Their father, Craig, adds collaboration and input, while the brothers build new innovation in genetics, nutrition and grazing to build a highly marketable herd to Southeastern buyers.
Michael and Lisa Neal began their own commercial herd in 1989 and eventually moved into registered Brangus in 2010. They quickly found it was two vastly different ways of management. The ambition was there to make quality genetics, based on the needs they saw in their commercial herd.
"We started Midsouth Cattle with 40 registered cows nine years ago and now breed 150 females along with hosting our annual production sale," says Michael. "Our goal is to enlarge our herd slowly, which allows us to produce some of the best cattle available in the Brangus breed."
The traits established for the registered cattle through top genetics, utilization of A.I. and embryo transfer, have also paid off within the commercial cattle utilized by all four companies. "We are producing better bulls that we utilize in our commercial operations. It sounds simple, but it's a high-tech business.
The focus is always on herd health and nutrition. The use of an extensive vaccination protocol keeps the herd performing in top shape. Good-quality hay, mostly silage and the use of minerals are a large factor in the herd's health. We test for genetic conditions as well as disease." Genomic enhanced EPDs are used in purchasing and breeding decisions. The operations take management to a higher level.
Heifer development
Developing Ultrablack and Brangus heifers has become a key for the Neals, not just for its registered herd but also as a part of its annual commercial sale offerings.
Midsouth heifers are typically weaned and weighed at 7 months, and weighed again at 1 year with ultrasound scans done on rib-eye area, IMF and Fat. At 14 to 15 months, the A.I. breeding begins – it's done around May 1. The planning has paid off with a calving window right around 75 days.
In the weaning stage, the heifers have been well prepared with creep feed that is a custom mix with high fat. The Neals monitor for body condition, and the heifers' diet consist of this mix along with supplements until their lush Louisiana ryegrass is available for grazing in late November. They will stay on the rye until breeding in April. "We allow them to mature slowly; these heifers never go back on feed." After breeding, they will graze summer pasture. Upon the arrival of their first calf, they will have ryegrass again. Commercial heifers are also weaned in this manner and graze rye during natural-service breeding.
Genetic targets
The registered Brangus cattle at the Midsouth Cattle Company, which started in 2010, are built with a focus on maternal and temperament traits.
The Neals target a balance of EPDs. "Across the board, we want them good," Michael Neal says. "We focus on milk, rib-eye, IMF, birthweight and scrotum along with fertility. Docility is also a key component. We're with them every day. In the registered cattle, if we come across anything with a bad temperament, they're culled." The Neals make sure the bulls they sell keep a docility temperament that fits the customers' needs and their environment. Customer satisfaction is extremely important.
Thriving commercial herds
Michael and Jarrod Neal make the most of collaborative efforts to keep each other's business moving forward in their operational goals. Genetics are shared; recip females are utilized for embryos; stocking management plans are built together.
Jarrod's goals with the commercial cattle in the jointly operated family herd and his own Bayou State commercial herd are consistent. Plans for management and protocols of herd health are all the same.
Commercial calves are typically born October to December in early winter, and cows are rebred naturally by March. Calves are weaned by the end of July, and cows are preg tested the first part of August.
"When these heifers are virgins, we put the bulls out; we'll come back and pregnancy test, and our pregnancy rate is consistently 94 to 96 percent.
"Heifers with their first calves will breed back because of ryegrass, nutrition and how they are managed. It happens every year."
Heifers are genetically targeted to have calves around 70 pounds but without sacrificing future weight in the next generation.
"A lot of people think you've got to breed a heifer to a low-birthweight Angus bull and sacrifice that first calf. You don't have to do that. You can raise replacements off of heifers."
To aid in that effort, the Neals dedicate 2.5 pasture acres per cow in grazing, with heifers getting 1.5 acres of ryegrass per head, whereas cows get just 1 acre.
Calves are worked in February and March. They get an oral drench wormer, eprinomectin injection, along with a modified-live vaccine shot and 8-way clostridial with tetanus. The family utilizes their own color-coded tag system to identify which calf belongs to which herd.
Keys to registered growth
Now approaching a decade into their expansion into registered production, Michael and Lisa Neal say two key decisions led to greater success. One was the emphasis on quality genetics, through the best herd sires and selecting the right EPDs.
"You can be moderate all you like," Michael says, "But if you can afford to buy the bull with the highest and best EPDs, that's what will take your herd to the next level."
Another key factor was linking the registered and commercial cattle by utilizing successful embryo transfer and putting registered embryos into the commercial cattle. "We're taking top genetics and raising super females, harvesting eggs out of these great females and using our commercial cows to advance our herd at a much faster pace."
PHOTO 1: Lisa Neal, Michael Neal, Jarrod Neal and Austin Neal form some of the three generations involved at Neal Ranch.
PHOTO 2: A recip cow alongside a new calf and the service bull.
PHOTO 3: Michael Neal prepares some supplemental range feed for his heifers.
PHOTO 4: The recip herd and embryo transfer cows at Neal Ranch.
PHOTO 5: Jarrod Neal greets one of the service bulls for the commercial herd at Craig Neal and Sons Farms.
PHOTO 6: Neal Ranch by the numbers. Photos by David Cooper.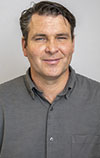 David Cooper

Managing Editor
Progressive Cattle