Pete Hymel may not have the biggest operation in the Southeast. But he certainly has one the best-smelling ranches.
Take a stroll up to the opening gates of Hymel's ranch outside of Baton Rouge, Louisiana, and it's easy to be distracted by the rich aroma of smoked brisket and Cajun recipes.
Hymel manages a cow-calf and stocker operation by the name of Richfield, located along Baton Rouge's levees on the Mississippi River. And right in the middle of his operation is his catering business, Pete's Lagniappe Catering. Combine the smell of local cooking with the draping oak trees, and rich carpet of ryegrass for roaming cow-calf pairs, and you see a unique operation in the heart of southern Louisiana.
Richfield is the home for 350 cows and a herd of 15 to 20 Angus or Brahman bulls. Hymel's goal is for a productive F1 cross, or quarter-ear cross, using Hereford cows and Brahman bulls. That F1 cross is then bred to an Angus bull for a quarter-ear cross.
"We calve in January and ship at end of September," Hymel explains. "They come off the cows weighing between 625 and 650 on steers, somewhere around 600 on heifers."
Some heifers are retained, although it's gotten more rare. He prefers to keep the F1 crosses more than the quarter-eared heifers as far as the brood herd is concerned. And economics in today's markets have dictated quick turnaround.
"With the price of cattle today, it's just not cost-effective sometimes to save these heifers. The price to market in years past has been good. You get so much from a heifer at 600 or 625 that you can't afford to keep her.
"Compared to the length of 18 months it's going to take to get something off her, I can go get heifers at sale in spring, raise her for cheaper than it is to raise yours up."
Stocking and grass
Hymel owns the cow-calf operation, but backgrounds around 150 to 250 heifers stocker cattle on sections of the 1,200-acre ranch, which is broken into 100-acre plots. Those stockers come in at 400 to 600 pounds and leave around 800 before hitting grass or wheat fields in Kansas.
He gives customers the option to feed stockers on per-day basis or a weight-to-gain basis.
"Lately the per-day is a better fixed process for me and the customer because he knows about what it's going to cost at the end of the 60 to 90 days that they're here," Hymel says. "Whereas the weight-to-gain, if we get a bad year and grass isn't growing, I've got to put something on the feed out there, and neither one of us will do well."
Over 25 years in custom grazing, Hymel can see how pairs will do, how to read weather's impact on the grass or to feed supplement hay or protein. It's gotten easier to craft what customers want.
The land at Richfield, owned by other private owners, has never been sold and remains in private ownership going back to the 18th century and the Fredric Conrad family. Hymel considers himself lucky to graze in an environment conditioned for ryegrass growth but allotted in one large chunk.
"I don't own the property; I've manage it for 30 years for the local family. I'm lucky I can farm property that's all one chunk. I'm not like a lot of my neighbors that have 100 acres here, 25 acres here. I'm very fortunate that it's one property.
"It gives me the avenue to do the things I want to do. I can manage three types of operations on this property."
Herd health and management
Using several part-timers during hay season, Hymel can roll about 4,500 rolls of hay a year to sell for regular customers. It produces good dry hay and haylage, which is unique for this corner of Louisiana and is a valuable resource for winter in wet, cold conditions. In spring, the river bottom is very fertile for clover, which lasts from February to June and keeps until summer grass comes in.
Some 400 acres of ryegrass-clover mix is planted in early October for winter grazing and the haylage crop. The ryegrass-clover mix helps provide nitrogen for when urea and fertilizer prices rise and adds beneficial use for all-winter stockers.
The ryegrass-clover mix also settles cattle in spring by preventing excess bloat from ryegrass alone. Minerals are combined with an ionophore, then balanced with the proper amount of salt to further prevent bloat. "I'm very fortunate; I haven't lost a cow to bloat in two years."
Chance Armstrong, DVM, assistant professor of food animal health maintenance at Louisiana State University, says while the Mississippi River region is good for precipitation and grass, it presents challenges for liver flukes and parasites.
"Our deworming strategies are different than in other parts of the country – based strictly on that particular parasite, we see a lot of production losses. And also just losses of cattle in general with mortality rates just from the ingestation of that fluke and the damage that does to the liver."
Hymel tackles those challenges aggressively with fly tags in mid-June to August and spot fly drench to de-lice and give the tag a boost. He adds free-choice minerals and IGR products to liquid feed to battle vectors as well.
Breeding systems
Louisiana producers are fond of the Brahman influence for cattle in Southeastern climates, and Hymel is no different. LSU was a pioneering research institution for the three-breed rotation system in beef cattle, utilizing Brahman first-cross calves with Angus or Hereford influence.
Hymel starts by producing the Braford F1 cross cow, that's bred back to the Angus bull. Hymel brings Gardiner Angus bulls to the operation to create the quarter-eared heifer. "I've saved a good bit of those heifers in my brood cow herd now. Some of the old mamas and their offspring are still in my herd."
The brood cow herd is one-third F1s and two-thirds quarter-eared cows. The calves that come from one-eighth Brahman do very well in the feedlot, thanks to some high-growth weight EPDs in Gardiner bulls.
Hymel also has quick movement for new bulls arriving at Richfield.
"I buy eight to 10 bulls every fall, virgin – all yearling – and I put them out at 20 to 22 months. I put those with my cows first; I'll let them breed the first 30 to 40 days. Then I pull them, and they don't see a cow the rest of the year." Bulls bought the previous year are then brought in for 60 to 75 days of cleanup.
Bulls don't stick around long, since Hymel will routinely sell the Gardiner bulls after two or three breedings to other area producers who want those solid genetics. "I'm kind of bull broke, but it works for me."
In between all the movement of cattle, seeding grass, cutting forage, there's the everyday business of feeding parties, weddings and reunions. To no surprise of Hymel, beef is a top seller.
"I cook Choice or better, whether brisket or tenderloin," he says of his menu, which includes aged beef. "That's just my own choice; that's what my customers like. My own theory in the cooking industry is you have to start out with a good product to end up with a good product."
PHOTO 1: Quarter-eared Brahman cows that breed with Angus bulls are a common fixture at Richfield near Baton Rouge, Louisiana. Photo provided by Pete Hymel.
PHOTO 2: Pete Hymel prepares beef tenderloin for a client's Sunday dinner.
PHOTO 3: An Angus cow grazes the winter grass at Richfield.
PHOTO 4: Pete Hymel observes the ryegrass and clover planted at Richfield. Photos by David Cooper.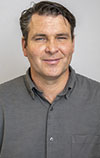 David Cooper

Managing Editor
Progressive Cattleman