The panhandle of Texas is the heart of America's largest cattle-feeding area. More than 6.5 million fed cattle are marketed here each year, accounting for 30 percent of the total U.S. production according to the Texas Cattle Feeders Association.
Amarillo, Texas, is the epicenter of the industry.
Today, area residents may slide their boots under a steakhouse table, purchase a custom cut from a specialty meat market or fire up their own smoker. Eating beef in the heart of cattle country is filled with delicious choices.
Red River Steakhouse
Will Frost, owner of the Red River Steakhouse, began his career as a bus boy for the McLean, Texas, restaurant while in high school.
Eventually, he learned to cut steaks, run a charbroiler and manage the catering business, which fed hundreds of oil field workers in the region. "I used pellet fire grills on-site to smoke prime rib for three or four hours, then hand-cut it when ordered," he recalls.
Frost eventually purchased the steakhouse from founder Gabe Parson, originator of the K-Bob's Steakhouse chain, and expanded to include a location in Amarillo. "To be a Texas steakhouse, you have to offer high-quality beef cooked over an open flame at affordable pricing," describes Frost. "And you can't be a steakhouse in Texas and not cut your own steaks."
Red River serves Certified Hereford Beef, wet-aged at least 21 days and sourced from Affiliated Food Service. Affiliated is headquartered in Amarillo but serves customers in seven states throughout the Southwest.
Doug Street, general manager of Affiliated, is a former meat cutter with 45 years of experience in the industry. "I have done 20 blind cuttings using Certified Hereford Beef with chefs and restaurant owners," explains Street.
"Each time, we cook the steaks exactly the same way. I ask participants for their feedback on taste and how well it eats. I have yet to lose one."
"People want thicker, leaner cuts of meat today," explains Frost. "They expect it to be aged and tender." During the wet-aging process, natural enzymes within the meat break down, causing the flavor profile to increase. Affiliated places the beef in vacuum-sealed packages and holds it at 32 to 35ºF during aging.
Frost describes his restaurants as "cowboy chuckwagon Texas cooking." More than 700 locals will come through the Amarillo location on a Friday or Saturday night, and Frost can usually be found in the kitchen. "Consistency is key," he explains. "You can't use a machine to cook a steak."
Click on the links below for recipes.
Red River Steakhouse steak rub recipe
Edes Custom Meats beef tenderloin recipe
Dennis Amason's Amarillo brisket recipe
Edes Custom Meats
Edes Custom Meats has been serving Amarillo since 1982, and they have developed a fiercely loyal customer base over 35 years. "All the items we sell have won grand champion awards either at the state or national level," boasts Jack Hensley, operations manager.
Founder Melvin Edes built his store's reputation on Certified Angus Beef heifers which graded Choice or higher. That tradition continues today with local purchasing.
Alex Valenzuela, Edes plant manager, explains, "Our customers demand quality, and we have a passion for this business." Scott Robberts, production manager, agrees. "Our customers like the marbling."
In addition to wet-aging beef in-house, Edes also offers dry-aged meat where the moisture evaporates off the carcass while hanging on the rail. "The personal attention we give customers exceeds anything the big box stores can offer," explains Valenzuela.
One of Edes' most famous specialties is their award-winning beef jerky, a recipe which took the founder more than three years to develop and remains a closely guarded secret today.
"We currently offer three varieties of beef jerky and are working on a fourth," describes Robberts. The new flavor will debut later this year and incorporates Hatch green chiles from New Mexico.
According to Hensley, beef jerky is approximately 30 percent of Edes' business and is shipped all over the world.
Edes pays close attention to the demands of their loyal customers. "The teriyaki beef jerky was customer-driven, just like the new green chile flavor," explains Robberts. "We let our customers be our taste panels."
Other specialties include beef tenderloin roasts, bone-in ribeyes and flank steaks. Hensley notes, "Flanks are an excellent piece of meat that cook well on the grill, mostly for fajitas, which is important for this area of the country."
"If people in the Panhandle want a good steak, they would often rather grill it themselves," summarizes Valenzuela. "If they're having the boss over, they'll come out to Edes and get a custom steak."
The art of burnt ends
Dennis Amason is the perfect example of a Texan who, given the choice, would rather prepare his own beef at home. "From as far back as I can remember, I've been helping my parents make something in the kitchen or out on the grill," he describes. "From pizza to steaks to barbecue, I've cooked a lot of different foods."
Amason has most recently been perfecting his preparation of a classic Texas cut, the beef brisket. "I use the low and slow method of smoking with a Weber Smokey Mountain 22 Smoker," he shares. The barrel design includes a water pan which Amason fills with part water and part apple juice in order to keep the brisket from drying out during a 14- to 18-hour smoke.
"I've been told brisket is the hardest meat to cook to perfection," says the amateur chef. "Of all of the smokes I've done, brisket has been the hardest to perfect."
Many people, including Amason, believe the burnt ends are the tastiest part of the brisket. "They are the perfect mix of smoke, meat, fat and seasoning."
The Amarillo native doesn't compete on the barbecue circuit or rely on awards for feedback. "I don't care about winning things," he shares. "I care that I'm a Texan who loves to cook in my backyard while drinking beer. This is a fun hobby that keeps me out of trouble and my stomach full."
Just like a hundred years ago, cattle still outnumber humans in the Panhandle of Texas. And residents still enjoy a good cut of beef every chance they get.
PHOTO 1: Ribeye and marbled cuts from the Edes trimming table.
PHOTO 2: Left: Will Frost, owner of Red River Steakhouse in McLean, Texas. Center: Alex Valenzuela, plant manager of Edes Custom Meats, trims a tenderloin. Right: Scott Robberts, production manager at Edes and its award-winning jerky in the background.
PHOTO 3: A rare-cooked steak from the Red River Steakhouse. Photos provided by Shannon DeFord.
Raised on a cow-calf farm in Kentucky, Karena Elliott is an international freelance writer who lives in Amarillo, Texas.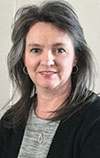 Karena Elliott

International Freelance Writer
Amarillo, Texas
Red River Steakhouse steak rub recipe
2 parts kosher salt
4 parts coarse black pepper
1 part brown sugar
4 parts garlic powder
4 parts onion powder
1 part paprika Olive oil
The seasoning mix can be made in a small batch by substituting teaspoon for part. You may also choose to make a large batch and place in a shaker like they do at the restaurant.
1. Oil steaks with about 1 teaspoon of olive oil on each side.
2. Sprinkle seasoning on both sides of the steak.
3. Place steaks in refrigerator for at least 45 minutes.
4. Let steaks set at room temperature for 15 minutes prior to cooking.
5. Apply olive oil to broiler, grill or black iron skillet.
6. Cook at 450-500ºF.
Edes Custom Meats beef tenderloin recipe
One whole beef tenderloin roast (5 to 6 pounds)
Salt, pepper and garlic to taste
Olive oil
1. Heat oven to 250ºF.
2. Rub tenderloin with olive oil. Apply salt, pepper and garlic.
3. Place roast on rack in shallow roasting pan. Do not add water or cover. Roast in 250ºF oven for approximately two hours. For medium rare, approximately one hour and 45 minutes. Internal temperature should reach 145ºF.
4. Remove roast, let set 10 minutes, then slice and serve.
Dennis Amason's Amarillo brisket recipe
I usually buy a 14- to 18-pound brisket. I trim the fat cap to about ¼ inch of fat above the meat. I also trim the backside layer to ¼ inch of fat left above the meat. You can leave more as you get farther up the brisket away from the thin end of the brisket, but try to cut it to about ½ inch and make sure you score the fat before seasoning.
I cut any "loose" ends off that might catch fire and burn too badly. After I trim the fat and have everything ready to marinate, I do the following:
Place the brisket backside up in a large, deep pan.


Pour over a fair amount of olive oil and Worcestershire sauce.


Coat with salt (at least 1 cup) and pepper (cover heavily, but where you can still see the meat).


Pack a thin layer of brown sugar on the meat.
Turn the brisket over and repeat the above process on the top side of the brisket.
After covering the brisket on all sides with the above ingredients, cover pan tightly with foil and allow to sit in a refrigerator for at least 12 hours before the smoke begins but no more than 18 hours.
Remove from refrigerator, uncover and allow it to rest about an hour before you begin cooking. This will allow the meat to come closer to room temperature and get loosened up before cooking. This helps keep the brisket tender and moist.
Fire smoker up to 225ºF. You can use the charcoal and wood of your choice. I use Royal Oak lump charcoal with hickory and mesquite wood chunks. When the smoker gets up to 225ºF with charcoal only, add wood chunks (it is best to allow the wood chunks to soak in hot water about 30 minutes before placing on the fire so they actually smoke, not catch fire and burn fast).
I use about four to six of each type I choose, but no more than 12 total. Also, add in hot water and any other liquid you choose to the water pan. (I like to use apple juice.) Allow smoker to come back up to 225ºF again.
Once it hits 225ºF again, place the brisket on the smoker. Check the temperature about 30 minutes after you put the brisket on the smoker. Allow for 75 to 90 minutes per pound for the brisket to cook.
One question I get a lot is: Do you add more wood chunks when you add charcoal? I don't, because the meat will only accept the smoke for the first four to six hours of the cook. So when you need to add charcoal, just add charcoal.
The brisket will begin rising in temperature pretty quickly. Don't let this confuse or frustrate you and make you think it's cooking too fast. Brisket will begin cooking quickly and then it slows down naturally. I usually check the internal temperature about every three hours without raising the lid off the smoker.
I use a probe thermometer that has an external temperature reading. The only time I take the lid off the smoker is at about six hours, nine hours and 12 hours. This helps keep the temperature regulated, and the brisket cooks more evenly. When I do take the lid off, I pour about a cup of apple juice over the top of the brisket. This helps add flavor, but mainly, it helps keep the brisket moist and tender. I never wrap the brisket while it cooks.
Some do to help get it through the "stall," which naturally occurs at about 155 to 165ºF. When it gets into the stall, the brisket may not rise more than 5ºF for up to four hours. I've had one stay in this stall for up to six hours, and it was the best brisket I've ever made. Wrapping the brisket to speed things up can end up changing the taste and tenderness of the brisket. I let the brisket fight through the stall for its own perfection.
Once the brisket reaches an internal temperature of 195 to 203ºF, it's ready to be removed from the smoker. I almost always take mine off right at 195ºF and wrap it in foil tightly. Then I place it in a cooler for about an hour. This allows the juices to really get into the brisket and it finishes cooking in the wrap.
Then, remove the brisket and allow it to rest about 30 minutes before slicing. Slice the brisket against the grain, starting at the thinnest point of the brisket. Cut any burnt ends off before slicing into the fat cap of the brisket. These burnt ends will be the tastiest part of the brisket.
They are the perfect mix of smoke, meat, fat and seasoning. This fat cap of the brisket is the portion of the brisket you should chop for chopped beef sandwiches. Once you have everything sliced and chopped, enjoy!
This is just a little side note. If you talk to many people about smoking brisket, there are two types of people – fat side up and fat side down. If you are using a smoker where the fire is directly below the meat, place brisket fat side down. The fat actually helps keep the brisket from burning.
If you're using an offset fire, you can choose if you want fat side up or down. The fat being up will not lead to a moister product. Tenderness and moistness is in the marinating and cooking, not the fat!