A sound seedstock operation will always find wisdom in rubbing shoulders with a good veterinarian.
Work with two vets, and you're on solid ground. Get three, and you're pushing your legacy higher.
But a seedstock business with four vets? Now you've got four aces.
That's the hand held by Greeneline Angus of Covington, Louisiana, where the registered herd of 250 females and 75 bulls swing their tails under the vigilant eye of a family of veterinarians.
Owners Gary and Kim Greene and their son Matt Greene are all practicing animal physicians, and were recently joined by another as Matt married Kelsey, while both were at LSU School of Veterinary Medicine.
Gary and Kim started their registered seedstock herd in the '90s after experimenting early on with a commercial herd of cows. But they quickly saw that was a distraction to their goals and began raising bulls.
The Greenes started the Angus operation in 1993 with cows purchased at the Black Bull Cattle Co. auction ran by Dave Pingrey. Soon their budget was outrun by other bidders, and the Greenes were left to bid on four older cows.
"The older ones were going," Kim remembers, "and this one went in there and went crazy. She had the ring man running up the side, was running around blowing snot, and no one was bidding on her, and I said 'Get her, get her.'"
"She says, 'Buy her and we can handle her. She's just stirred up, that's all,'" Gary recalls.
Her prediction proved to be spot on. The cattle's demeanor improved under Kim Greene's caring hand, and the herd began steady improvements, with careful culling and trait selections for balanced calving ease, weaning weights and pounds per acre exposed.
"These folks buying these bulls are weaning on pounds," Gary explains. "We have some people that retain ownership, so then the carcass weights come in."
fGreeneline's corner of Louisiana sits above Lake Pontchartrain, where plentiful bahiagrass and bermudagrass carry late-gestating cows, and ryegrass boosts lactating cows in winter and spring. The Greenes calve in fall and wean in May, feeding some grain during the summer to reduce the heat of digestion and express the genetics of the newly weaned calves. Greeneline utilizes 1,350 acres of leased and owned land and some forested land where cows run under for grazing.
"Most of our producers are commercial producers, and our bulls go into commercial herds," Gary says. "We like to have the bulls on the same forage that they will be put on after they leave here."
Healthy Greene cattle
As a herd under a team of four family members practicing vet medicine, the Greeneline cattle receive high standards of health management. Cattle are dewormed twice a year with pour-ons and injectables. Cattle get modified-live vaccines and are ear-notch tested for bovine viral diarrhea (BVD) to rid any persistent infection risks. Mineral programs are a critical tool since the terrain can lead to some deficiencies in copper or zinc. Injectable minerals have made a difference in reproductive efficiency and are administered to all calves at weaning, all cows at pre-breeding and all bulls at data-collection time. And then there are the extra steps taken for any other health risks.
"We change every needle on every cow, which not too many people do, just to help control the transmission of blood borne diseases." Gary explains. "Nor do we reuse sleeves. That's hard, but we don't, just as a way to try to prevent transmission of anything to another animal.
"It's hard when you're a veterinarian and a farmer, because you've got two parts to your brain."
The Greenes find Angus cattle perform well in the Mississippi Delta climate, but it requires selection on data and tight culling decisions made quickly for herd improvement.
"There's a certain component of our selection for heat tolerance and durability built in to our monitoring of contemporary groups," Gary explains. The ones that are less tolerant don't perform as well. So if you're diligent about culling, you can continue to select for animals that are adapted to our environment.
Genetic toolboxes
The Greenes embraced genetic tools more than 25 years ago with the routine use of A.I. and embryo transfer in the registered herd. Some of these registered females made their way into their commercial F1 herd with use of Brahman bulls creating high demand F1 females. The F2 quarter blood progeny has seen good success with many of the steers grading high for CAB premiums they have expanded the F1 programs by flushing elite maternal Angus cows with sexed Brahman semen to produce high quality F1 female embryos.
The Greenes immersed into more in vitro fertilization (IVF) technology. This past summer they became practitioner partners with Trans Ova Genetics and are offering IVF services to the area and using it in their own herd.
"We're different in the purebred business because we're trying to be that person that produces the high end," Gary says. "But even producing those, we tell people we manage our herd like a well-managed commercial operation. There are no frills. Cows are not pampered. They only eat what we raise, except for mineral, and we don't supplement. They've got to wean, graze, breed back and do all that within a year."
Selling quality
Ask the Greenes what took their business to a new level; it's their emphasis on a strong production sale. Ten years ago, they joined with two neighboring producers to create the Quality and Performance Breeders (QPB) annual sale. Greeneline brings around 60 to 65 bulls of their own to stage the production sale, then offers private treaty sales afterward.
"We don't sell any of the fall yearlings until the spring sale in March," says Kim. "We don't want anybody to take off the top and leave the rest. Some of the younger ones we'll keep and grow out and sell in the fall as 2-year-olds."
"When we first started doing this, we had maybe 25 bulls, trying to sell them private treaty," she adds. "People would come and look and think about it, come back again. It was spending a lot of time showing them individually to people. The sale brings the immediate buyer. It's been a great thing. It's a lot of work putting it on and you can sell most of them on that day.
"I love talking to the people but don't have the time," Gary says, "and meeting some of the people is one of the greatest parts of the job. Truly great, salt of the earth people; that's the great part of a sale."
PHOTO 1: Gary, Kim and Matt Greene at Greeneline Angus in Covington, Louisiana. Photo by David Cooper.
PHOTO 2: Kelsey and Matt Greene hold the newest member of the Greene family, Nora Grace. Photo by Kim Greene.
PHOTO 3: Considerations for calving ease, birthweight and weaning weight are all factors in female genetics at Greeneline. Photo by David Cooper.
PHOTO 4: Greeneline Angus focuses heavily on an early spring bull sale featuring usually around 65 sires. Photo by David Cooper.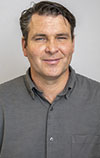 David Cooper

Managing Editor
Progressive Cattle