It's what they call "10-40" country; there are varying stories depending on who's telling it but, essentially, a cow has to have a mouth 10 feet wide and run 40 miles an hour to get enough feed.
Some of the toughest, most isolated parts of the U.S. lie in San Juan County, Utah, near the Four Corners area where Utah, Colorado, Arizona and New Mexico collide. If you don't ride a horse, you might as well not come looking for a cow.
A little history
In 1880, when the first pioneers challenged the sandstone cliffs, descending the steep wagon trail (aptly named Hole in the Rock) through Glen Canyon to cross the Colorado River was a harrowing experience. Farther down the trail, they faced a steep climb up the solid rock wall of San Juan Hill.
Charles Redd, whose father, Lemuel H. Redd Jr., drove a horse team up the steep, slick grade, related the climb took its toll on men and stock. "Many of the horses went into 'spasms and near-convulsions' as they battled for footholds on the upward climb. When it was all over, 'the worst stretches [on the hill] could be easily identified by the dried blood and matted hair from the forelegs of the struggling teams.'"
The pioneer perseverance eventually led to the settling of Utah's isolated San Juan County. Many of the original pioneers eventually abandoned the settlements, and others were forced to seek outside employment to survive the harsh conditions.
Lemuel Redd and his son Charles (Charlie) were among those who stayed, bringing in sheep, Hereford cattle and, of course, horses. Charlie's grandson Steven says, "Grandpa Charlie always said we raise cattle for the prestige, the horses for fun and the sheep for the money."
Past to present
That changed when Steven's father, Paul, was sent to Australia for a year to learn best practices of the sheep business. When he returned in the early '60s, his assessment was, "I don't think we can compete." He was right. Predators and the unavailability of quality herders ended their sheep enterprise in Utah. Then, to Charlie's chagrin, Paul introduced Red Angus.
Lemuel's great-grandson Steven Redd continues to build on the legacy, running 1,600 head of mother cows on 200,000 acres. That's not a typo – literally 200,000 acres. "It takes a lot of country," Steven says, as he explains the "10-40" idiom.
The range starts at 6,000 feet altitude and climbs to 10,000 feet. While it may be one of the harshest places in the U.S. to produce beef, Steven says he can use it to his advantage: "We're trying to use what is a tough environment to produce a unique product."
Redd Summit Ranches operates in three states. The Utah and Colorado ranges are contiguous. New to the operation plan is leased range in St. John, Arizona, where later-calving cows are sent, making room in Utah to raise bred heifers to meet customer demand. Steven says, "We've found people are always knocking on our door asking for bred heifers, and my whole life I've been telling them no, but something finally clicked that maybe we ought to start saying yes. So I leased the ranch in Arizona to make room in Utah to produce and sell a range-produced heifer that's been raised in these harsh conditions."
A big part of that demand comes from the call for good mothers in the cow-calf industry.
Steven says, "We select for great mothers. That cow has to bring a calf home and protect it from predators. Just balance is what we look for. Not big, not tiny, just balanced."
The harsh environment naturally selects for cows of medium frame that are good mothers and will protect calves from common predators – coyote, cougar and black bear.
Today's base herd of Red Angus is mixed with Angus and uses 100,000 acres for seven months of winter grazing. About 90 percent of the total acres are permitted through the Bureau of Land Management, U.S. Forest Service and the state of Utah. The remainder is private deeded ground.
Deeded or permitted, winters are tough on cattle. With an average foot of snow at the camp base to 6 feet on the mountain peaks, cattle still survive with no fed hay. The winter range has a mixture of blue gamagrass, needle-and-thread grass, Indian ricegrass and winterfat (also known as white sage or winter sage). Winterfat is the preferred browse because of the high crude protein content in winter.
Forages on the high desert
Steven says, "We've always struggled with our forage gap between April and June and didn't have cool-season grasses to go to because we don't go to the mountain until June. Grandpa Charlie, bless his heart, and my dad got aggressive planting crested wheatgrass until about the mid-'70s, until environmental and archeological regulations prohibited it."
Steven says the crested wheatgrass was a game-changer, creating grazable range and providing the forage needed from April to June. Summer grasses consist of orchardgrass, Kentucky bluegrass, a variety of bromes and, in some places, a lot of clover.
Grazing rotations don't happen without a full-time cowboy crew of three, and Steven says his crew is smart and dependable. "We're not doing a rotation every day or every week, but we're certainly not a turn-out-for-the-summer operation either."
"Our pastures are subdivided, so we'll run on the Forest Service for two weeks, then on state ground for about three weeks, then move to another pasture. Particularly during the growing season, we try not to be on a pasture longer than three weeks. I think that'll be my next big opportunity for improvement on the ranch – to cut every pasture we have in half so we can get closer to one-week moves. That's the goal."
Logistics of high-altitude calving
Although June-July would be the preferred calving season, Steven says Redd Summit Ranches backed it up to April-May for logistical reasons. He says, "We have to get the calves tagged and branded and accounted for before they go to the mountain. We don't have a good grip on them again until October."
Weaning takes place in late October or early November. Weaned calves average about 450 pounds coming out of the harsher environment. The calves are usually pre-sold and shipped on weaning day with only replacement heifers held back. Steven says, "We believe the very best heifer is one that has already spent time on our range. After weaning, we'll run 20 to 80 percent of the heifer crop out on the winter range with the cows so they can learn that behavior – how to browse, how to select, how to survive."
Range improvement
Lack of water on a desert range is the biggest production hurdle. Steven says, "We're very poorly watered. Access to water on the desert is a bigger limitation than the amount of feed. There are acres with good feed we can't use because in a dry year there won't be any water for the cattle.
So Dad talked forever about putting a pipeline in, and I was just ignorant enough to not understand all that would be required for that. So I took it on as a personal project." And he started the approval process.
It took five years to get the approvals through the Bureau of Land Management and another two years to put in 30 miles of stock water pipeline through rugged rock country. Although NRCS and the state of Utah kicked in a little funding, the bulk of the cost fell to Redd Summit Ranches.
But Steven says it was "absolutely a game-changer. Now we can put cattle where they should go, not where we can go." But he also admits, "I'm glad I didn't know how hard it would be when I started."
Complementary operations
As part of the ranch transition model, Paul Redd and his wife, Diane, put the deeded land into a trust, and Redd Summit Ranches rents land from the family trust. Steven's sister Jennifer also rents land from the trust and runs a registered herd of Red Angus through Redd Ranches (separate from Redd Summit Ranches), whose motto is "Pedigree is one thing; performance is everything."
The annual bull sale is well-known throughout the Four Corners area and from Wyoming to Texas. Most potential bull buyers are running herds at high elevations, so they need cattle adapted to altitude to prevent brisket disease (bovine high-mountain disease).
As part of the bull-buying guarantee, Dr. Tim Holt of Colorado State University conducts the pulmonary artery pressure test on each sale bull at Redd Ranches, identifying those most at risk for developing the disease and detecting early signs of the disease.
In his effort to produce the best "10-40" cow herd available, Steven is one of Jennifer's best customers.
PHOTO 1: Redd Summit Ranches is a family affair. Shown here are parents Steven and Aleigh, with children (in order of age) Dallin, Spencer, Bayleigh, Brooklyn and Corbin. Photo provided by Steven Redd.
PHOTO 2: The high desert range at Redd Summit Ranches ranges from 6,000 to 10,000 feet in elevation with contiguous land in southern Utah and Colorado.
PHOTO 3: The harsh, high-altitude environment naturally selects the best mama cows that can protect calves from a variety of natural predators. Photos by Mike Dixon.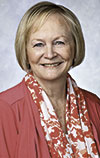 Lynn Jaynes

Editor
Progressive Cattleman