The scenic environment around Kaczmarek Herefords may be a bit remote from traditional cattle country. But when buyers go there, they typically find just what they're looking for.
The reason for that is simple. The Kaczmarek family, with two sons now leading the operation founded by their parents in the '70s, wants their bulls to deliver good meaty calves – in spades.
Bull sales are strong and steady for the seedstock operation delivering hearty Hereford sires from a stretch of southeastern Missouri, some 120 miles from St. Louis. Cattlemen around the region know the Kaczmarek brand is built on good size, healthy and docile disposition, and carcass traits that keep everyone in the chain smiling.
"Carcass traits are number one," says Joe Kaczmarek of their Hereford bull genetic profile. "It all comes down to the fact we're selling pounds. We've got to keep the feeder guys happy and the packer guys happy."
Such formidable genotypic progeny weren't built in a day. The family's seedstock philosophy was developed over two generations along with a perpetual approach to assembling the right land for raising cattle.
Owner Bill Kaczmarek is a native of Pennsylvania but had an all-American football career at Southwest Missouri State. After two years in the military and a short stint in the NFL, injuries started taking a toll.
Settling in Salem in 1971 as a school coach and administrator, he and his wife, Roberta, started raising seedstock, which seemed a bit easier than their childhood days on dairy farms.
Sons Joe Kaczmarek, 53, and Tony, 50, began their careers in private business and medicine, respectively, only to find their way back to the ranch. Together, they've worked on expanding herd sizes, acreage and genetic tools that solidify the Kaczmarek foothold.
Buying pieces of surrounding land over the years, the family ranch has grown from 120 acres up to 1,800 total acres – most within a 4-mile radius around the rolling hills outside the Mark Twain National Forest.
Joe Kaczmarek describes the ranch's genetic philosophy as one that has similar targets to other ranches while still keeping an eye on the prize of a longer and sturdier phenotype.
The owners established a genetic blueprint by importing some genetics from Canada and the Dakotas. The cattle had just the right phenotype for a longer and stretchier cow with a longer ribeye. "We've never gotten away from that," says Joe. "We're putting marbling back into them now over the past seven years.
"We watch calving ease, and we watch our birthweight. But we don't worship it," Joe adds. "Those are big buzzwords everybody uses. We just watch them and use them on our heifers. But we don't use them on the cows."
The feedback buyers give to Kaczmarek typically praises that bigger build with sufficient but not excessive muscling that keeps pounds just right before going into the feeder truck.
"Ninety-five percent of all our sales are commercial guys. They're all looking for carcass, every single one of them. They come in here, and we show them calving-ease bulls and show them carcass bulls. The carcass bulls sell just like that."
Those buyers are almost all Angus producers, he says, breeding to that first F1 cross.
"We don't sell a lot of our females. We've been retaining for seven years everything, and we just keep filling numbers."
The ranch keeps a spring- and fall-calving herd, with the majority of calves dropping in spring starting with heifers in January. The Kaczmareks give them a good 30 days to recuperate before the rebreeding begins after a first calf. Cows deliver in February, and most are done by the end of March.
Longevity is another trend critical to the herd, with most cows going for an average of 12 years and a few cows that push up to 15.
To add that extra edge of vigor, Kaczmareks will blend horned and polled cattle, Angus and Hereford. Cattle receive a pinkeye shot and sprayed once a month and rarely get parasite issues. Herd health programs also test and vaccinate for BVD and blackleg with all calves getting two rounds of shots by the time they go to market.
Having loyalty from buyers drives the Kaczmareks to build the genetics for consistency that will continue to pay.
"You can breed by number and EPD, but that animal may not have the carcass in them. I don't want to be the person that sells an animal that doesn't have any carcass value when they take their animals to market and they don't get the numbers they want. They're not going to come back and buy from us."
Today, the seedstock herd numbers 150 head, not counting any heifers. The commercial herd is also at 150 with 80 heifers in the last year. There's also a recipient herd of 30 head on top of that.
The expansion of the recipient herd and development of seedstock has put the Kaczmareks on a fast track. Tony Kaczmarek, a urologist in his full-time work, installed a barn facility for A.I. and embryo transfer (ET).
"If you do ET, it's going to be messy the day you do it, so you want to keep them calm when you work them," Tony said.
Just up the hill from the barn is the developing lot where young bulls are pastured and given controlled rations before the fall sale. Both brothers take pride in the development of young bulls, which are kept about seven months after weaning until they're about 15 months old and sold through private treaty or through sales.
The pride of the herd is seen in two sires, Houdini and King, that display the demeanor and stout posture cattlemen love to see.
"That's our phenotype of bull," explained Joe Kaczmarek. "The big commercial guys that come to see us, that's what they're looking for. He is muscled, straight-backed. We had one of the bigger show guys stop by; he about died when he saw him. He glides when he walks and is just a heck of an animal."
The fall sale at Kaczmarek has 70 lots, 50 of them from the family operation and a few other Missouri operations adding to the total.
"Because we have such a great market for F1 cattle, it's just unbelievable. Same guys have been buying them for 15 years in a row."
PHOTO 1: The cow herd at Kaczmarek Herefords.
PHOTO 2: Joe Kaczmarek, left, and his brother Tony, work with their parents, Bill and Roberta, on the management of Kaczmarek Herefords.
PHOTO 3: A newborn calf on the pasture entering Kaczmarek Herefords ranch.
PHOTO 4: King is the target phenotypical bull for the Kaczmareks. In this picture he is 3 years old. Photos by David Cooper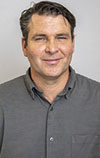 David Cooper

Managing Editor
Progressive Cattleman