A 4-H project that got out of hand. That's what Tommy Mead of Mead Cattle Enterprises says about his passion for the Hereford breed.
"I love them. I live and breathe the cattle, and I love the genetic part. Growing up with the show cattle and the pedigrees and all that, I don't know, it just kind of got out of hand," laughs the Midville, Georgia, producer.
Nestled in the pines and atop Georgia's picturesque red clay and lush forages, is a 450-head purebred Hereford operation 40 years in the making. Just as pride in their property ownership is evident, so is their pride for their cattle, and that's reciprocated in the way the animals are treated.
This busy couple, along with their four children, has set a high standard when it comes to animal welfare. Tommy Mead says, "If I got a cow that needs attention, and if I can't have her in the headgate and taking care of her in 10 or 15 minutes, we consider that a problem. It's that important."
Finding quality labor, or any labor at all, is definitely an issue in their neck of the woods. While it might be easy to skimp on vaccinations, overgraze pastures and avoid castrating bull calves altogether, they manage to get it done and to get it done right. Which led to their participation in the Global Animal Partnership program (GAP).
Just like when someone with good budgeting habits is approached to sign up for a new credit card with exceptional benefits, the Meads were approached by an animal welfare certification organization to get rewarded for something they were already doing.
Although the bread and butter of the Mead program is their breeding stock, Tommy Mead points out the 140-head feeder steers (from his herd and his co-operator herds) he sells are just as important to their bottom line.
Making just a few changes to their program, such as stopping the use of ionophores and implants, and the use of rumensin in feed, they are able to get a premium for those calves which equated to about $90 a head last year. And as he points out, "90 bucks is 90 bucks."
Through GAP's five-step program, a third-party audit is conducted on-farm to assess the environment, health and well-being of the animals. T
he auditor looks closely for things like water sources, emergency plans, low-stress handling techniques, transportation procedures, good health and pasture condition, to name a few. In return, the calves are shipped to the program's Pennsylvania-based feedlot where they are marketed to companies such as Whole Foods.
Once the audit is conducted and documentation is filled out, a score is given that determines eligibility. Both confident in the way they treat their cattle but a little wary on what the auditor might think, Tommy and Valarie (his wife) were tickled to hear they scored a 4 out of 5. Valarie Mead says, "We felt like we were doing everything we could for our cattle, and I guess [the auditor] did too."
Not much has changed
Concrete pads around waterers and feeders – which they've had in place for 15 years – were established to keep their cattle from wading in the mud. They always strive to castrate their bull calves at 90 days, but Tommy Mead admits there are a few 100-dayers out there at times. They use homozygous polled genetics and have also taken the initiative to get BQA-certified.
"All that's really different is: We just document it now," he says. "Any time we treat an animal with a vaccine, it is recorded with the serial number and things like that. So basically, it's everything we've been doing; we just have to do a better job of documenting."
With a stack of papers that would make a college student cry, it raises the question: Why bother with it? Why add just one more thing to your to-do list?
"It's just where the industry is going," Tommy Mead explains. "Everything you pick up and read, it's in it. I look at those people who don't have animal welfare as a priority, and I think, 'You're expecting something to make you money and you're abusing it?' Everybody talks about how fat these cows are, well it isn't because we just pour corn to them, it's because we have enough grass to eat and we keep hay out there when needed. So why not get paid for it?"
It's been close to one year since the Meads started their venture with the GAP program. While the program checks back every 15 months to make sure the cattle are treated per USDA guidelines, the Meads aren't necessarily scrambling to get things in order when that day arrives. It's something they do every day.
"I've always said each cow is its own business," Tommy Mead says. "That cow is a business-owned entity, so if she's not profitable she doesn't need to be here, or I need to change what I'm doing to make her profitable."
Growing their genetics
Besides being on top of their game in terms of animal welfare, the Meads are also on top in terms of technology. Using a rigorous embryo transfer program – flushing about every five weeks – they have been able to elevate the level of their program while using the majority of their own bulls.
"We are pretty proud of the fact that we've got bulls we can turn out we think are as good as anything in the breed," Tommy Mead says.
Last fall, the Meads reached a big milestone in their program: selling their first bull "Excede" as an A.I. stud to Select Sires. Tommy Mead expresses his goal is to have 50 percent of Mead calves be embryo transfer calves, which means 50 percent of the calves will be out of 10 cows. It's a win-win for both parties, as the customer gets a uniform herd and the Meads capitalize on their genetics.
The Mead-sired herd bulls are in the top 20 percent of the breed for expected progeny differences and indexes. They are marketed as low birthweight, excelling in carcass quality and offering some of the most completed expected progeny differences profiles. All of the bulls are genetically enhanced expected progeny differences-tested.
A production sale is held at the home farm every May. Although Tommy Mead admits private treaty is his favorite, he continues to use the annual sale as a way to price the rest of his bulls and females that will sell private treaty. He says private treaty provides the best scenario to get to know your customers and provide them that bull when they actually need it.
When asked if he advertises his partnership with GAP to his customers, Tommy Mead says he hasn't yet, and he doesn't know if he will. Besides it being mentioned on their website, he doesn't feel like it's something worth advertising because "it's what we do anyway."
Tommy and Valarie Mead didn't start into the cattle business with a goal to be rewarded for how they treat their cattle; instead, they made it a priority, and it's evident among their customers and in the quality of cattle. And just as they expect each family member to take care of the animals, they expect the same results from their customers.
"The guy that wants cheap bulls to breed his cows is not the kind of customer I want," Tommy Mead says. "I want a guy who wants a good bull and is not afraid to pay for it because if he's not, he's probably not taking care of his cows. So it's important to us where they go and that they are taken care of."
PHOTO 1: Every animal is treated in a kind manner at Mead Cattle Enterprises.
PHOTO 2: Mead Cattle Enterprises
PHOTO 3: Feeder steers are just as important to their bottom line as their breeding stock. Photo by Cassidy Woolsey.
PHOTO 4: Tommy and Valarie Mead welcome everyone to their 2017 sale before blessing and serving dinner.
PHOTO 5: Valarie Mead documents the type of vaccine and its serial number when administered to their cattle. Photos provided by Valarie Mead.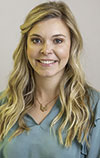 Cassidy Woolsey

Editor
Progressive Forage