What makes a man who grew up in the San Francisco Bay area choose the life of a cattleman in eastern Oregon? A passion for the beef industry and a knack for the business to make it all work.
Kirk Scilacci and his wife, Michelle, moved from California to Baker City, Oregon, roughly 11 years ago and set up the DLX Ranch, which today comprises over 14,000 acres and 1,200 cow-calf pairs. They also raise a few registered Angus that his children use in the show ring.
Scilacci didn't grow up with any contact with the ag industry other than his extended family's dairy farm, but after getting a taste for working with cattle there, he worked his way into the ag industry as a young man and hasn't looked back since.
A.I. program
The Scilaccis have a very strong, stable A.I. program. They've been using A.I. on their herd for the last few years, gradually increasing their percentage until this last breeding season, they A.I.'d 1,100 of their 1,200 cows, which is uncommon in a commercial herd.
The Scilaccis started developing their A.I. program a few years ago when cattle prices were at their peak. "When cattle prices started skyrocketing, so did bull prices, so you'd get a mediocre bull and have to spend $8,000 to $10,000 on something that wasn't super top-of-the-line," Scilacci says.
For him, buying the semen of a sire and taking care of the breeding himself was an acceptable cost for him, since it also enabled him to choose a higher-quality sire and saved him from the risk of his bulls getting an injury, or having a problem with performance and only breeding part of his herd. "It's a little more work, but it's not too bad," he says.
The Scilaccis synch and breed groups anywhere from 120 to over 200 cows over a period of several months, starting in the spring and ending around mid-July.
"It's a little bit more time-consuming because after we do the synchronization then we watch the cattle, and we actually have to check heat for four or five days and then seven days after that, then we plant the embryo.
What we're trying to do is get the age of the embryo the same as the length of time the cow was in heat and cycled – so that her uterus is the same as the embryo's age when we implanted it, so that it will adhere into the uterus."
With so many cattle involved in their A.I. program, timing is everything. "We want to make sure they're 45 days past vaccinations and everything," he says. "Later in the season, it's a matter of breeding stragglers, and group size depends on our vaccination program and how many days prior we took care of that."
Scilacci tried A.I.'ing 300 cows his first year, increased to 700 the next year and kept increasing until he bred most of his herd through A.I. this year. He also keeps a service bull for the few stragglers whose A.I. didn't work and a few fall calvers.
"We do have herd bulls that we turn out to clean up, but there's always a certain percentage that your bulls are going to breed naturally," he says.
One of the benefits of a strong A.I. program for Scilacci is the range of choice in sires and traits to select from. "There's a million semen catalogs where you can go through and pick and choose what you want," he says. "With all the EPD stuff, we look for the docility score, but a lot of it is just handling. We try and handle them pretty easy and not ram and jam them too much, and I think that makes a big difference too."
Scilacci says it's been easy to spot a few benefits of a strong A.I. program. "We definitely see more consistency in our calves and our size, and more uniformity, because we are A.I.'ing so many, and we have a lot of calves out of that one bull."
Embryo calves
Thanks to their strong A.I. program, the Scilaccis have another way of making money. He raises several calves a year for a registered Angus show stock producer in Illinois, a connection from his kids' involvement with show cattle.
They take the embryos from the Illinois herd and use their commercial cows as recipients. "We raise the calves and they buy them back, so essentially they're paying us to raise the calves," Scilacci says.
They implant the embryos in the spring and the grown embryo calves are shipped back to Illinois once they are weaned in the fall. "It gives us some added value to our commercial cows," he says. "They pay us a premium to do that for them."
While premiums are nice, Scilacci says the inconsistency of the embryo implants can be stressful. He says the embryo process is more complicated and not as consistent as regular A.I. "The percentages vary from year to year. We might breed 125 and get 50 calves," he says.
Scilacci says their ranch faces as many challenges as the next. "It's dangerous to think that you might be doing better than others at some things, because that's when everything will start going wrong." The challenges they face are constantly changing. "It's a struggle every year because it's always something different," he says. "It keeps you on your toes."
PHOTO 1: Kirk Scilacci constantly looks for new and different ways to make money on his ranch.
PHOTO 2: Kirk, Michelle and a ranch employee finish a round of synching protocols. Photos by Carrie Veselka.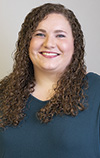 Carrie Veselka

Associate Editor
Progressive Cattleman