The current average age of farmers and ranchers in the U.S. is about 58 years. Since this is an average number, it signifies that a large number of farmers and ranchers are over 58 years old.
Due to this aging population, transition of agricultural property to the next generation has become a frequently discussed topic.
Owners/managers and their heirs of three sizeable cattle operations in three different geographical regions of Texas were asked about the financial and legal aspects of transferring property to heirs. The interviews were focused on the six questions listed in Table 1.
J.D. Hudgins Inc.
The J.D. Hudgins ranch is located at Hungerford, Texas, 50 miles southwest of Houston on the gulf prairies ecoregion. Joel Hudgins settled in the area in 1839, and in 1908, one of his sons, J.D., formed a partnership with his children to raise commercial cattle and farm. J.D. Hudgins Inc. grew out of that original partnership.
In the early 1900s, as the family searched for a type of cattle that would thrive in the heat and parasites of the harsh Gulf Coast area, they turned their interest to the few humped Indian cattle that were available.
In 1915, J.D. Hudgins and his son Walter began putting together all of the Indian cattle they could find and afford to purchase. These, and other breeders' humped cattle, formed the basis of the first breed to be developed in the U.S. – the American Brahman.
J.D. Hudgins Inc. is annually recognized by the National Cattlemen's Beef Association as being one of the 10 largest purebred producers in the U.S. The fifth and sixth generations of the family are now actively managing the business.
As the Hudgins family grew, the original land holdings were divided among the heirs. Those interested in the ranch bought shares from their siblings and formed divisions that operate under J.D. Hudgins Inc. Coleman and John Locke operate the Locke Division of J.D. Hudgins Inc.
"When John graduated from college, I knew he had the ambition, desire and knowledge to run the ranch," says Coleman Locke. "John possesses the talents required to be a good manager. He thinks outside the box, looks into the future for new opportunities, and has a strong urge to grow our business."
"When I was in high school, I thought about a lot of different careers, including being an airplane pilot," says John Locke. "Then one day, I suddenly knew what I wanted to do and that was to run the ranch."
"After graduation from high school, I obtained a degree in interdisciplinary agriculture at Texas Tech, which schooled me in a variety of subjects involved in ranch management. I spent spring break, Christmas holidays and summer vacations working as a hand on the ranch. The business was learned from the ground up."
Coleman explains, "As occurred in prior family generations, management responsibility is being transferred gradually. There is no written plan – transition is occurring through a give-and-take process between John and me.
When John returned to the ranch from college, he voluntarily assumed some of the responsibilities and has gradually increased his load as he becomes comfortable with his current tasks. A primary skill required by a rancher is to be a good businessman, and John is proving that he has those skills."
"Transition to Daddy's generation had its rough spots with family disagreements," John adds. "This prompted us to work hard to develop a smooth transition to me and my sisters. In turn, I am working on a transition plan for my family in case sickness or death removes me from the management role."
Bonds Ranch
Pete Bonds and his family own the Bonds Ranch in Saginaw near Fort Worth. The Bonds Ranch was established by P.R. "Bob" Bonds, Pete's father, in 1933. After his father's passing, Pete was raised by ranch supervisor Pete Burnett. Bonds says that Burnett made him the man he is today and pushed him to be better than he could have been without his influence.
At the ripe age of 18, Bonds took over the ranch of his late father and decided that one of the most important keys to his success was to get a quality education. He completed the Ranch Management Program and a business degree at Texas Christian University (TCU).
The Bonds operation has cow-calf, stocker and feeder cattle, and includes property in Texas near Saginaw, Marlin and Canadian as well as in northeastern New Mexico. They also place cattle on leased property in 26 Texas counties, in the Intermountain region of the western U.S. and in the Midwest.
Bonds runs cattle as far south as Veracruz, Mexico, and as far north as Alberta, Canada. Bonds is a second-generation cattleman and is transitioning his business to his eldest daughter, Missy.
"I told my daddy I wanted to be a rancher just like him when I was 8 years old, and that desire never left me," Missy Bonds states. "To help achieve that dream, I tried to obtain the knowledge needed to manage a profitable cattle business."
Her academic training includes a bachelor's in agricultural economics and finance from Texas Tech University, completion of the Ranch Management Program at TCU, and a master's in animal science and nutrition at Texas Tech. "When I started working toward the graduate degree at Tech, my daddy gave me a specific date at which I was to return home and start learning the business.
"My first two years on the ranch was spent working as a cowboy – digging post holes, stretching barbed wire and working cattle," says Missy. "As a member of the Texas Beef Council and the United States Meat Export Federation (USMEF), Daddy recognized a need for more hormone-free beef for shipment to Europe.
He gave me the assignment of developing a business segment to help meet those needs. This assignment was in addition to the other work I was doing. The project was successfully completed and my responsibilities grew from there.
"We extended the length of our office, which allowed me to place my desk next to Daddy's," Missy proudly says. "I learn a lot by listening to his telephone conversations."
When asked what it takes to be successful in the cattle business, Missy quickly answered, "Be willing to spend time in the office. It's more fun to do the cowboy work, but the office is where the business is made profitable."
"I developed a good work ethic in my kids at an early age, and I largely consider that is why they are successful as adults," says Pete Bonds. "My middle daughter, Bonnie, and her husband operate a ranch in Colorado, and the youngest, April, graduated from college two years ago and returned home to work in the business.
"Missy exhibited her capabilities when she completed the hormone-free cattle project," Pete continues. "Soon after that, I developed some serious medical problems, and Missy had to run the entire operation. She did a good job."
Frank and Sims Price Ranch
The Price family began ranching in 1876. Frank Price has managed his family's ranch for 40 years, first in partnership with his father, and since January 2011, in partnership with Sims, his son. Sims and his wife, Krista, are the fifth generation of Prices on the ranch, which is located in four counties in the vicinity of Sterling City, Texas.
"I guess that I've always known that Sims had the desire and capability for managing our ranching operations," says Frank Price. "A smooth transition of my responsibilities to Sims is very important for maintaining integrity of the ranch for future generations. It is hard for me to let go of certain tasks, but Sims and I work together to move the process forward regardless of his reluctance to take away any of my duties and my reluctance to give them to him.
"Fate moved the transition a big step forward in 2011 when my horse fell with me and broke my pelvis. I was immobile for about 90 days, and during this time, Sims had to run the ranch. He could consult with me via mobile phone, but he made most of the decisions."
"We had a wildfire during that period, and Sims was forced to take command of the firefighting crew. He did an excellent job of subduing the fire as well as managing the ranch."
Frank concludes by saying, "Required skills of a ranch manager are patience, aptitude, financial training and the ability to work with people. Sims has all of these skills."
Sims Price says, "I originally thought about trying something other than ranching as a career, but about my senior year in high school, a strong feeling of wanting to return to the ranch came over me. It was realized that I needed to start at the bottom and learn the basic techniques of ranching, which I did.
I also knew that you have to be a good business person in order to succeed as a ranch manager, so I entered Texas Tech University and got a degree in agricultural economics and business.
"When a young person begins to transition into managing the family ranch, he or she should be humble in their communications and interactions with people," Sims adds. "We have one employee that started working with us when I was in high school. Others joined us while I was in college. I learned a lot from their experiences in operating the ranch, and as a result, work assignments are discussed – not dictated."
There were some common themes across the five interviews that can be used as criteria for smooth transitions (Table 2).
Multi-generation ownership of ranches results from smooth transitions of management responsibility and continued profit generated by the operations.
PHOTO 1: Missy Bonds and her father Pete Bonds inspect the herd from a saddle. Photo by April Bonds.
PHOTO 2: Coleman Locke, left, and his son John Locke. Photo by Corinne Rockemer.
PHOTO 3: Sims (standing) and Frank Price discussing grazing plans. Photo by Brian Baxter/NCBA.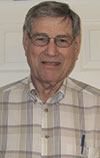 Robert Fears

Freelance Writer
Georgetown, Texas