One Iowa couple was determined to make it back to the family custom feeding operation, even though it couldn't support two families…read how they did it.
In the hills of Bernard, Iowa, down a windy road, you will find three silos, beautiful cattle and the home of Dan and Abby Martin. Together, with their three children, they run Martin Cattle Company. Their operation consists of an 80-head cow-calf herd and 1,000-head custom-fed feedlot.
Dan and Abby, at the age of 30, have put in countless hours of hard work and dedication to build Martin Cattle Company to what it is today. But according to Dan and Abby, it wasn't always this big, and it hasn't been an easy process.
Dan's family has custom-fed cattle for 20 years, and it was in his blood to continue the tradition. He always knew he wanted to farm, but he was never sure if he would be able to do it.
Being a young farmer these days is difficult; land isn't cheap and is hard to come by, pastures are scarce, regulations on feeding cattle aren't what they used to be, and supporting a family on a farm income isn't always possible. In the words of Dan, "Just because you love doing it doesn't mean you can."
The long road home
Dan started off by going to college because farming right after high school wasn't an option. The farm wasn't big enough to support two families. After being in school for one semester, he just couldn't do it anymore. He had that "itch" to farm his entire life, and it never went away.
Since going home to farm wasn't an option, he went to work for a feedyard in southern Iowa. After a few years there, he got another itch – this one involved moving back home to the family farm.
Knowing he'd have to increase production and profits didn't scare him; it enticed him. So he started his journey, at the age of 21, in building Martin Cattle Company.
It wasn't and still isn't an easy process. He had the home farm, but that didn't come free. He had to pay his family rent for the lots he used and went on 50/50 shares on the cow-calf herd. But that was just the beginning.
Dan and his father sat down and had to figure out the arrangements for payments – who owes what and other financial decisions. It wasn't as simple as saying, "You feed these cows, and I'll feed these, and we'll split it all 50/50."
Dan would be doing all of the labor on the farm since his father worked a full-time job during the day. Dan's dad, John, owned all of the ground some of the feed would be processed from, but Dan owned the equipment to work the ground.
They worked with Iowa State University Extension to figure out how to really make this work with all these situations. Iowa State Extension specializes in helping farmers figure out their budgets and how to split things evenly.
Dan explained the budget sheet they have you fill out. The sheet had them fill out who owned the land, who did the labor, and who owned the equipment. It helped them make things fair throughout the two families. "It was one of the best things we did," Dan says.
Then he had to build the amount of cattle he fed. Not only did this include finding the cattle but improving facilities and buying bigger equipment to handle the new amount of feeders. Dan also had to make sure he could get enough feed for the cattle too. He doesn't raise all of the feed he needs, so he needed to make sure he had a good supply.
Dan worked with a nutritionist at a local feed store and his veterinarian to make sure the cattle were getting the best feed possible. Once he figured out what all he needed, he made sure he stocked up on distillers, hay and minerals. He took one thing at a time and accomplished some amazing goals.
Dan continues to work toward his goals, but sometimes things don't go as planned. Some days are trying on the farm. Dan says, "There are many days I come in the house and ask Abby if this is all worth it, if I'm doing the right thing, if I'm jeopardizing my children's futures." He explains that with the good, there comes the bad.
You never know when or how much your paycheck will be; expenses on equipment, vaccines for sick cattle or less cattle to feed that month can throw your budget off and make things even more difficult. Working long hours, being away from your family, and the stress associated with all that can get to a person.
When asked how one deals with these situations, Dan simply smiles and replies, "You get yourself a good wife. There are many days I don't know how I would do it without her."
Continual learning
The Martins are great about reaching out to other sources to help them stay on top of new developments, changes in markets and other problems that can arise on a cattle farm. They explained some of the resources they use to keep them in "check."
Working with the Iowa Cattlemen's Association and networking with others in the cattle industry has helped them tremendously. Meeting others who face the same problems as them has helped them feel relieved but also has helped them find answers to those problems.
The Martins also work with Iowa State University Extension on multiple issues. From figuring out budgets to manure management, ISU Extension has been there. The last resource they use is their local bank. The bank is helpful at assisting them reach new goals but keeping everything within their budget. Today, Martin Cattle Company is owned and operated by both Dan and his father.
After finding out about all the struggles the Martin family faces, it almost feels as if the cattle industry was too much for a young farmer, too much for a young family, too much to handle if your family hasn't already secured your future.
Then Dan raises his head and says, "We're living the dream. We have the best job in the world. There is no better life. We are fortunate for what we have. My dad sacrificed a lot to give me a shot. I couldn't be more grateful."
Joy in the journey
Dan and Abby then go on to explain the pure joy they experience from farming. How it's worth the headaches, the bad days and long nights. Dan goes on to explain that his favorite part of raising cattle is getting in the truck at the end of the day, with his entire family, and checking the cows. He explains how there can't possibly be anything more amazing than that in this world.
Martin Cattle Company is in the process of implementing many new things on the farm this year that have taken over three years to get started. They are building a total containment open feedlot. This will allow for easier management but also be more environmentally friendly.
Dan and Abby are excited for the new building and have plans to build more once they get the first one built. "It's been a process, but it's finally coming together," Abby says.
The Martin family is very involved in the cattle industry in Iowa and do their very best to help other farmers. Last fall, they hosted a manure management seminar on the feedlot and plan on having other seminars on the feedlot, once they have their new building built, for fellow farmers and others who have questions about how feedlots work.
Dan is a graduate of the Iowa Young Cattlemen's Leadership Program, and both Dan and Abby are working on their Masters of Beef Advocacy classes now.
Abby didn't come from a beef background, but from being with Dan she has grown a love for it and enjoys advocating for the industry. Dan has a passion for the cattle industry that is easy to see. He believes we need more producers promoting their businesses; after all, he says, "We have the greatest product in the world."
He wishes consumers would just trust farmers with raising their food. The couple works hard, not only on the farm but on the behalf of the entire cattle industry.
Watching the Martins work together as a family speaks more than anything they could have ever said. Running a feedlot operation is more than just the cattle. It's more than just hauling manure or working all hours of the night. It's about it all. It's about teamwork, dedication, management and passion.
PHOTO 1: Dan and Abby Martin with their three children, Maci, Myles and Merritt, in front of their feedlot.
PHOTO 2: Overlooking part of the Martin Cattle Company's feedlot. Photos by Kellie Gregorich.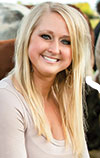 Kellie Gregorich

Freelance Writer
Oxford Junction, Iowa