Breaking into the cattle business isn't easy. It requires land to graze and grow feed, equipment and genetics, making young producers a rare breed.
According to the USDA's Census of Agriculture, there are 2,109,363 farmers and ranchers, yet fewer than 120,000 are under the age of 34, making the average age of the American farmer and rancher 58.3 years old.
Despite the challenges of entry into a fiercely competitive industry, young producers such as 24-year-old Jon Carlson of Carlson Angus in Regent, North Dakota, have beaten the odds, overcoming unique challenges and embracing new opportunities in today's cattle operations.
Through technology and with access to information, Carlson says he can add value to his registered seedstock herd by following avenues his parents never dreamed of.
Great genetics are relatively inexpensive and are becoming increasingly similar, making it more difficult for producers to differentiate their operations from each other.
"Appropriately combining the right genetics is key. We strive for performance because that's what our customers are striving for in producing uniform, predictable feeder cattle," says Carlson.
Customer service is one of the most effective ways to differentiate seedstock operations, he says.
"First and foremost, our customers are number one. In order to be competitive, you have to think like your customer and help them market their calves," he says.
Carlson attributes his success to three things: passion, patience and persistence.
His passion for genetics started at a young age. "I remember being 10 years old poring through pure-breed sale catalogs. I was a freshman in high school when I bought my first cow from Schaff Angus Valley. She now has more than $80,000 in progeny and will have her biggest set of calves this year," he says.
By the time he was a sophomore in high school, Jon had taken over all of the breeding and the family seedstock operation, building it up to 300 head of pairs.
"If you love what you do and are passionate about cattle, the old cliché, 'You'll never work a day in your life' is true, and it's that passion that keeps you going even during the most volatile times," he says.
When striving for quality over quantity in his business, Carlson says it takes patience.
"My goal is to build our herd up to 500 head of pairs and sell 300 bulls every year. But it's a slow process. We get better with each generation, and this year will be by far the best set of bulls we've ever had.
"I want to get to the point where we have the same consistency of quality from the first lot of the bull sale to the last. It takes time, but we will get there by investing in some good cows and stacking the top cow families on each other.
In the long run, good cows will more than pay for themselves," he says.
"There are so many guys that are selling ordinary bulls," says Carlson. "As a breeder, you have got to set yourself apart and have the top cattle in order to be recognized. It takes persistence to continue to advance, learn from mistakes and keep up with the latest technology."
Carlson says he is currently using embryo transfer and in vitro fertilization to build his herd and reach his goal of creating a more uniform calf crop.
He says he also sets himself apart from other breeders through his authenticity.
"I take all our own photos for our catalog and website. There are so many in the industry that are Photoshopped and edited so much. It's important to me to take the bulls as they are and present them as they are going to be seen on sale day.
To me, it's just a more honest way to do business. I don't ever want our customers saying that the bull they came to buy wasn't the same as the one in the catalog. Our reputation is all we have at the end of the day," he says.
For more information about Carlson Angus, visit their website (Carlson Angus Ranch).
PHOTO 1: The leading donor at Carlson Angus.
PHOTO 2: Jon and Melissa at the National Western Stock Show.
PHOTO 3: Jon Carlson A.I.'s his heifers. Photos by Jon and Melissa Carlson.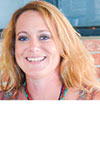 Jennifer Archibald

Freelance Writer
Lodgepole, South Dakota