Most beginning cattlemen would get discouraged when paying $400 a pair in pasture leases only to get $1.40 for 5-weight steers. And, on top of that, staying up-to-date with loan payments and the daily expenses that accrue when raising cattle.
But not 23-year-old Alex Wiese of Newman Grove, Nebraska. Instead of throwing in the towel, signing off his loans and flooring it to the nearest sale barn, Wiese bought more cows – but this time with a different plan.
Getting his start in the cattle business, Wiese and his father purchased 55 heifers in 2013 right before calf prices really took off. While farming corn and soybeans wasn't new to their centennial farm, cows and calving was definitely a new venture, and the decision to buy heifers was what Wiese would now refer to as "very educational."
"Why not jump right into the cattle business with heifers?" he laughs. "We definitely learned a lot that year."
Being in a competitive row-crop area, Wiese leased a pasture 90 miles outside of Newman Grove – yep, for $400 a pair. Tacking on the expense of trucking and the expense driving there and back to check on the cattle, it didn't take long for Wiese to figure it wasn't going to work, especially after calf prices dropped.
"I was doing it for the pure enjoyment," Wiese says. "We did that for three years, and it just wasn't penciling out. I knew I had to do something different." That's when the idea of drylotting came about.
In talking to another cattleman in the area about the astronomical pasture rates, it was suggested that Wiese try running his cows in a summer drylot setting. He was told he could run them a lot cheaper and was given a few contacts, one being Mary Drewnowski at the University of Nebraska – Lincoln. Needless to say, 2016 was the last year Wiese trucked his cows outside of Newman Grove.
Switching to a drylot system
While it might seem like an easy and quick move, a lot happened behind the scenes. Luckily, Wiese already had four existing yards on his dad's farm: Two they built for bucket calves Alex raised while growing up (when he got his bug for cattle), and the other two were built four years ago to winter the cow herd. The challenge, however, was coming up with a cost-effective feed ration.
Working along with Drewnowski and a local feed rep, Wiese looked at what he had available in terms of feed. Taking advantage of a seed corn company and an ethanol plant all within 20 miles of their farm, Wiese is able to get corn shucks (a cheaper form of corn silage) and distillers grains at a relatively low price.
He also utilizes baled cornstalks from their farm as well as a neighbor's and takes advantage of grazing crop residue in the fall and winter. He's established an early lactation, mid-lactation, late-lactation, first-calf heifer and weaning ration to meet the nutritional needs of both the cows and calves at different stages. Condition-wise, Wiese says the cows look a little better on pasture when compared to their limit-feeding system in confinement. However, he believes they still do just as well as the big fat cow on grass, if not better.
"All in all, I can feed the cow-calf pair for about a dollar thirty a day, which includes mineral and creep for the calves in this drylot system," Wiese says. "We were paying four hundred dollars a pair for five months; that's two dollars and fifty cents a day. Those were just feed costs. Obviously, I still had fuel, mineral, creep, and wear and tear on my vehicle to add to that. It pencils out better when feeding them in a drylot with harvested feed."
The first year on the drylot, Wiese made the decision to early wean the calves around the first of August. Since the calves were already bunk-broke and started on feed, he felt the calves performed better than they had in years prior.
"It could've just been a good year, but the calves were 40 pounds heavier than the year before when they were on grass," Wiese says. "We did get rid of some poor-doing cows, and it could've been just a good year for growing calves. But in year two of the drylot, we saw the same results. The calves were even a notch bigger than the prior year and seemed to be my most uniform set of calves thus far."
Looking ahead
Taking advantage of his facilities and feed resources, Wiese has also added a custom-feeding enterprise to his operation. While he is completely aware that custom feeding calves means less room for cow herd expansion, he feels the custom operation provides him a steady income and will hopefully one day allow him to quit his day job.
"You know, when I first started out and prices were high, I thought I could just go home after college and do it full time," Wiese admits. "But prices changed, and in college I found out it takes a lot more money to operate, and then you also have to factor in the cost of living. I knew I wanted to farm, but I also knew I couldn't do it right away here unless I added something to our farm."
Now, newly married, with 120 cows and a custom-feeding capacity of 200, Wiese has accomplished a lot in six years. He credits that success to the help of his family, especially his dad. He says his dad has been a big help when it comes to night checks during calving season and keeping an eye on things while he is at his day job.
Sure, there are things he would've done differently, such as seeking a more private or reputable deal on his cows instead of purchasing them at the sale barn, but those "not-so-great" decisions provided an education he says he couldn't quite get at a university.
"I've learned a lot from my mistakes," Wiese admits. "The first year we bought the cows thinking they were all A.I.'ed, and all the calves were supposed to be all black. The last one came out a Charolais. We had a couple of mean ones, and a few that didn't milk properly, but it helped having some producers or people I could call when new stuff popped up. Some of the local guys were the best help for me."
Wiese is at the capacity now where he is considering putting in another yard, and that growth will bring some new challenges, as he would have to comply with the Nebraska's Department of Environmental Quality rules regarding runoff, emissions, etc. Right now, he is under the limit, but if he were to reach his goal of owning 300 cows and a feeding capacity of 900, he would fall under those regulatory standards.
While Wiese has some lofty goals for the future of his business, he understands that plans and circumstances change, but if one thing is for sure, 2016 will always be remembered as the last year he trucked his cattle outside of Newman Grove.
PHOTO 1: To keep the calves healthy and thriving, Wiese created designated areas with hot wire so calves can get under and away from the cows. Here, Wiese creep feeds the calves 2 to 3 pounds of modified distillers every day.
PHOTO 2: Alex Wiese walks through his pens every day, sometimes multiple times a day, to monitor herd health.
PHOTO 3: Corn shucks are sourced from a local seed company.
PHOTO 4: Adding a custom-feeding enterprise has provided Wiese with a steady income. Photos by Cassidy Woolsey.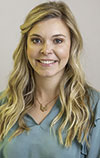 Cassidy Woolsey

Editor
Progressive Cattle