History of feedyard industry grows richer in Hereford, Texas
From the name of the town's newspaper, Hereford Brand, to the high school mascot, Hereford Whitefaces, almost every single aspect of life in this small Texas town is influenced by beef.
With more than 35 feedyards located in the area, the cattle industry has a direct impact on Hereford, and Hereford plays a significant role in the cattle feeding business. Today, Hereford, Texas, is the heart of the largest cattle feeding area in the nation, a region that provides almost 30 percent of the fed beef in the U.S.
The industry took root on the dusty high plains of the Texas Panhandle due to large numbers of cattle, the availability of grain and an ideal climate. The average summer temperature is 73ºF.
"Hereford had the greatest concentration of cattle feeders of any other town in the U.S.," explains Kevin Hazelwood. "It was quite literally the birthplace of commercial cattle feeding in Texas and remains the largest producer of fed cattle."
Hazelwood is senior vice president and chief of staff for Cactus Feeders Inc. One of every 25 cattle in the U.S. is Cactus beef, totaling over 500,000 head annually. Among operations across six states, Cactus Feeders owns the Southwest Feedyard in Hereford, a 40,000-head operation.
The yard was originally built and managed by Paul Engler, founder of Cactus Feeders. Their roots run deep in Hereford.
"Hereford, like the rest of cattle feeding country, is important to the beef cattle industry because of the amount of cattle fed in the area and the contributions these feeders make to the global food supply," voices Ross Wilson, president and CEO of the Texas Cattle Feeders Association. "Hereford is home to some of the first modern-day custom cattle feedyards."
Where the ranchers gather
Thirty-five feedyards and millions of cattle require thousands of cowboys and support personnel. "Hereford is a remarkable location in the ability to attract, support and retain feedlot labor," says Hazelwood. "While the market can be competitive, it remains a very stable source of employees who have the necessary cattle and production skills."
Mallory K. Vestal, assistant professor of agricultural business and economics at West Texas A&M University, identifies labor as one of the key challenges facing the future of the cattle feeding industry. Vestal knows about ranching labor firsthand. Her father worked at the Tulia, Texas, feedlot before starting his own custom cattle-care business.
"As a young child, I spent the majority of my time on a pony driving cattle to water and attempting to be 'as handy as a son' to a cowboy with two daughters," she shares.
In Hereford, 90 percent of the labor force at both feedyards, and the area's expanding dairy industry is Hispanic. "When I moved to Hereford in 1971, the Hispanic population was about 30 percent," explains Bob Josserand, founder of AzTx Feedyard. "Today, it's 85 percent of our community."
His Hereford feedyard was the fourth-largest yard in the nation at one time, producing 250,000 head of fat cattle annually. Nowadays, he and his son, John, focus more on cow-calf production and stocker operations in addition to global exports.
New hands at the ranch
Josserand sees Hispanic laborers moving into management positions throughout the Hereford feedyards. AzTx actively grooms key Hispanic employees for growing responsibility with an eye toward upper management roles. "As we move forward, expect to see more of that throughout the industry," he forecasts.
Hazelwood agrees. "We hire a significant number of immigrant employees," he says. Paying wages which average almost twice the minimum wage, as well as offering both low-cost health insurance and retirement benefits, is important to Cactus Feeders.
The 100 percent employee-owned company "affords them the opportunity to have a stable family and the ability to see their kids go to college," Hazelwood summarizes. "We really are 'building a middle class in middle America,' and that is more effective at lifting people up than any government program."
Managing risk
A second key challenge for the cattle feeding industry identified by Vestal is managing marketing risk. And she believes Hereford has a solid track record of risk management strategies.
"Risk is an inherent part of feedlot production," explains Vestal. From inputs such as the price of corn and feeder cattle to outputs such as fat cattle prices, feedlot sustainability depends on preparing for and coping with constant change in the economic environment. In the cattle feeding industry, "Price volatility has been a mainstay," she summarizes.
Founded in 1899, Hereford has consistently demonstrated how to survive downturns of the cattle feeding economy and remain viable over the years by sound business decisions and managing market risk.
Vestal elaborates, "By successfully building equity and investing in their operations when possible, feedlot operations have weathered the repercussions of an unfavorable business environment."
But it hasn't been easy. "Commitment, dedication and an unprecedented passion to the cattle feeding industry is reflected in their management practices," she points out. That results in a long-term commitment to the town of Hereford, population 15,370 at the 2010 census.
A town built by beef
"Hereford is a community with a heart and passion for cattle feeding," says Vestal. "Whether directly or indirectly, each community member is touched by the beef industry. It influences the culture, viability and sustainability of this historical Texas town."
Josserand agrees. "The cattle feeding industry made Hereford," he says plainly. "It is the dominant employer and primary user of farm products." But is this dependence an asset or a liability?
"The cattle industry affects in a positive way every industry in our community," summarizes Tom Simons, current mayor of Hereford and a former judge. Hazelwood adds that it's a two-way street. "The cattle industry supports Hereford, Texas, and Hereford, Texas, supports the cattle industry," he says. "They are one and the same."
Quite simply, it's hard to over-exaggerate how important beef is to Hereford, Texas. "The cattle feeding industry plays a significant role in the economies of small towns like Hereford," says Wilson. "The economic impact of the area, which includes but is not exclusive to Hereford, is approximately $15 billion."
And what about the thousands of feedyard employees who call Hereford home? Local government leaders see them as an asset as well. "Their employees are hard-working and contribute to our community in many ways," explains Simons.
In addition to owning a local feedyard, Josserand served as mayor of Hereford for 22 years. "The cattle cycles affect Hereford both dramatically and drastically," he explains. When prices drop, "Car dealers don't sell cars, and businesses suffer. The small town is totally dependent on agriculture." And it is small; less than 6 square miles are within the city limits.
Unlike many consumers in major cities, Hereford residents know exactly where the food on their table comes from and the sacrifices required for its production.
"Hereford is very tolerant of the dust, the increased fly population during the summer and other ways the cattle industry impacts life in our small town," explains Josserand. "Residents realize their whole existence is based on agriculture."
Since moving to Hereford almost 50 years ago, Josserand has adapted to the wind and the dust. "Living here gives me a sense of freedom I don't have anywhere else," he ponders. And while the sunsets and the sunrises on the vast Texas plains inspire the cattleman to brag on the weather, it's not the most important reason he loves living in Hereford.
Hereford residents know that life, like the cattle industry, has its ups and downs. Together, they weather the storms, feed the cattle and enjoy another sunset one day at a time.
PHOTO 1: Colby Fletcher rides through cattle owned by Mark Adams located about 30 miles outside of Hereford, Texas. Photo by Kim Peters.
PHOTO 2: Southwest Feedyard, a 40,000-head operation in Hereford, Texas, owned by Cactus Feeders Inc. Photo courtesy of Cactus Feeders Inc.
PHOTO 3: Mallory Vestal instructs students at West Texas A&M University in Canyon, Texas.
PHOTO 4: Mallory Vestal rides with her father in preparation for turning out yearlings on spring wheat at the family operation 45 minutes southeast of Hereford. Photos provided by Mallory Vestal of West Texas A&M University.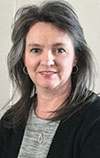 Karena Elliott

International Freelance Writer
Amarillo, Texas