Anniversaries. Whether it's five years, 20 years or 50 years, they give us an opportunity to reflect and refocus – and that's exactly what happened at the 50th anniversary of the Beef Improvement Federation.
Held in Loveland, Colorado, June 21-22, the symposium kicked off with a look to the future, starting with efficiency in red meat production. And with that, Michael Genho, director of feedyard business at Elanco Animal Health, challenged attendees to re-evaluate how feed efficiency is currently measured.
Starting with its definition, Genho said, "Efficiency, from an economic-efficiency standpoint, is really defined as 'What is the optimal that can happen within a given set of resources?' That could be time, money or any number of inputs. … It should consider what is currently happening with what is the 'optimal' that can happen."
Within the beef industry, feed conversion ratio and residual feed intake are the most common metrics used to measure feed efficiency but, as Genho pointed out, these metrics don't take into account changing input costs or factors that impact the value of the carcass, such as premiums or discounts.
Using Elanco feedyard performance data, Genho noted the current practice is to feed cattle longer – up 29.3 more days in steers and 13.4 more days in heifers. And, as more days are added, the feed conversion worsens.
Genho believes many cattle are reaching their optimal endpoint quicker than most feedyard managers expect and, consequently, those cattle are not managed efficiently or profitably. He said a better approach for evaluating optimal days on feed would be using a metric such as empty body fat (the percent of fat in that carcass). This is calculated using back fat, hot carcass weight, marbling score and ribeye area.
"It's like playing a football game. If you wrote all the plays down and handed them to your players before the game and said, 'Don't deviate from this playbook. This is what we did for the last three years against this team,'" Genho said. "In many instances, this is what we do in our feedyards.
We run projections. … If we just isolate it down to feed conversion and some of the metrics we've selected for such as residual feed intake, we are going to miss the economic driver of efficiency. It has to be done within the context of what endpoint you're targeting. Because it does differ by endpoint."
Focus on quality
Many improvements have been made to beef products in the last 50 years, but one that deserves an industry-wide pat on the back is quality grade. That largely can be attributed to genetics, extended feeding periods and grading technology enhancements, said Mark McCully, vice president of Certified Angus Beef.
Today, Prime and branded beef have exceeded Select on the marketplace. In the last eight years, the amount of Prime has nearly doubled from 13 million to 25 million pounds per week. McCully said that shift has taken place in Select, as the average weekly production has dropped to 50 million pounds.
Below are some factors that support strong future demand of high-quality beef:
Increased supplies allow for new customers. Record levels of high-quality beef have allowed businesses better access to products their customers desire.


Marbling is important to more than middle meats (rib and loin). Consumers today prefer quicker methods of preparation (steak items), increasing the value of marbling.


Ground beef is no longer quality grade neutral. Ground beef has been one of the fastest-growing categories for the CAB brand, and USDA Prime hamburgers are now in the marketplace.


There is tremendous opportunity in export markets. Due to their traditional cookery methods and consumer preference, countries such as Japan, Korea and China prefer highly marbled beef.
In terms of genetics, McCully didn't suggest producers tighten the reins on selecting for high quality – but rather just the opposite.
Pointing out the National Beef Quality Audit suggests the industry should produce 5 percent Prime and 35 percent upper two-thirds Choice, McCully said, "Maybe that's too low." However, he cautioned producers to avoid single-trait selection.
Focus on sustainability
Despite what critics believe, beef only contributes 2 percent of U.S. emissions, said Sara Place, senior director of sustainable beef production research for the National Cattlemen's Beef Association. But there are still opportunities for improvement, she said.
"We have made a lot of progress toward producing a sustainable product," Place said. "But we're probably nowhere close to the biological potential feed conversion efficiency for cattle. I think that's a huge opportunity for us. It's definitely what chickens have done the last several decades."
In addition to feed conversion efficiency, Place encouraged attendees going forward to focus on increasing red meat yield, decreasing whole-industry maintenance energy costs, improving pregnancy rates and, potentially, producing less external fat.
"If we think about the amount of feed used to produce beef, a lot of that feed goes to maintenance," Place said, suggesting maintenance progress has been pretty flat the last few decades. "Our cows have gotten bigger, and we are not increasing the amount of beef we produce for the amount of maintenance energy we're expending on our cow herd."
Focus on traits not considered
Bringing a unique perspective from down under, Dorian Garrick, a professor and chief scientist at New Zealand's Massey University, told attendees the industry could do a better job at selecting the traits not seen.
"Generally, what we see in beef production is: The selection is not as balanced as we would like," Garrick said. "It pushes income traits, or what we might call tangible traits. You like yearling weight, weaning wait and birthweight because they are things you can see and feel on your year-to-year operations, and they're quite heritable."
Garrick believes too many animals are being recorded in the bull breeding sector. In comparison to pigs and poultry, Garrick said one of the ways those industries run a cost-effective breeding program is: They minimize the size of the elite population.
Some inbreeding may occur, but because the commercial sector uses crossbreeding, the effects of inbreeding are never seen.
Going forward, Garrick predicts genetic technologies will likely help increase emphasis on traits least-considered. Of those traits will be animal welfare (disease resistance, temperament, etc.) and environmental impact (greenhouse gas emissions and excreted nitrogen). Also, he said if selection is going to be effective, it should be based on whole-system indexes.
In closing, Garrick told attendees, "This will need to be led by innovative breeders such as a new generation of those who were instrumental in the formation of BIF 50 years ago."
PHOTO 1: Michael Genho
PHOTO 2: Mark McCully
PHOTO 3: Sara Place
PHOTO 4: Dorian Garrick. Photos by Cassidy Woolsey.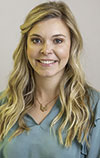 Cassidy Woolsey

Editor
Progressive Cattleman