According to Art Douglas, CattleFax meteorology analyst, La Nina is to blame for drought conditions impacting about two-thirds of the U.S. "But as we move toward the summer, things are going to start easing up," he told NCBA attendees in Phoenix.
The Southwest has taken the brunt of the La Nina, and over the past 90 days, dry conditions have spread into the Plains. While Douglas doesn't anticipate much change in those areas, he does foresee a weakening La Nina heading into summer with the potential for an El Nino bringing some relief this fall.
More specifically for this spring, Douglas predicts persistently warm conditions in the West with the main moisture more toward the northeastern U.S. Spring planting could be delayed due to drier soils in the far West, but wetter soils from Iowa to Ohio.
The Northwest and Northern Rockies may have the only reliable grazing into late spring and summer, Douglas said.
In terms of global conditions, Argentina and northern Brazil have been consistently dry, and that is expected to continue for the remainder of the growing season. "Argentina and Brazil will not have the record crops they had last year," Douglas pointed out.
Dry conditions over the last 90 days persist through the interior of Australia and have really impacted the cattle industry. Douglas said Queensland is very dry and in worse shape than they were in 2017. However, the Australian forecast shows some promise of late summer and fall rains in the dry areas of eastern Australia.
Douglas noted equatorial warming by June would favor a wetter Argentina but a drier Australia and a relatively poor Indian monsoon season.
Fundamental trade
"We have to be cautious with the weather conditions the way we are," CattleFax analyst Kevin Good said. "We could see more expansion in 2018 and then the market would plateau over the next 12 to 18 months. We are in a bit of a conflict because the areas where we would like to see continued expansion also have the headwinds of dry conditions."
According to Good, the U.S. beef cow inventory has grown 2.8 million head in the past four years. With that, Good expects more cattle on feed and more feeder cattle and calves in the marketplace to increase fed slaughter 700,000 to 900,000 in 2018.
Because of the imbalance between cattle going through the system and shackle space, Good expects the packing segment will continue to enjoy profitability into the foreseeable future. However, there will be some challenges as we go through May, June and July in particular to incentivize packers to harvest more cattle.
Considering trade, Good expects U.S. beef exports to increase 6 percent to 3 billion pounds, while imports should hold relatively steady near 3 billion pounds. "We have to remember major beef producers are all expanding at the same time – the U.S., Brazil and Australia," Good pointed out. "The global economy is going to be extremely important to continue to see growth as we go forward."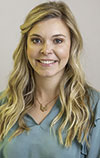 Cassidy Woolsey

Editor
Progressive Cattleman
PHOTO 1: Art Douglas presents the weather forecast portion of the CattleFax outlook session at NCBA. Photo by Lynn Jaynes.
PHOTO 2: Kevin Good of CattleFax discusses cow inventory and export forecasts to the NCBA audience in Phoenix. Photo by Cassidy Woolsey.