All signs point to a U.S. beef cow inventory that has plateaued, said CattleFax market analyst Kevin Good at the National Cattlemen's Beef Association convention in San Antonio – ending one of the most aggressive herd expansions on record.
With stabilizing supplies and a stronger demand in both domestic and foreign markets, Good told producers in February, things should start shifting in their favor.
"The biggest packer margins were in 2019," Good said. "Yes, they will be substantial as we go forward into 2020, but with the economic incentive that will create more efficiencies, and added shackle space in this segment of the business and a supply that has plateaued and more than likely won't get any larger over the next couple of years, this combination should suggest that the leverage component will shift more to the cattle feeder. And, as that occurs, more of those dollars will trickle back to the yearling and cow-calf producers."
At the same time, Good expects record-large beef production in 2020 as harvest weights are projected to be up 10 pounds. This would mean a 2% increase in beef production at about 27.7 billion pounds. The good news is trade could easily take 50% of that production increase off the market, keeping domestic supplies more manageable over the long term.
"With strong demand for U.S. beef at home and rising demand overseas, the modest increases in supply will be more than offset by growing consumer appetite for our product," Good said.
Increasing demand for beef in China, as well as continued drought and wildfires in Australia, puts exports up 5% with imports down 5%. With this shift in trade, Good only expects per capita beef supplies to increase 0.4 pounds from last year. However, pork and poultry are also predicted to increase production, with pork up 2.5% and broilers up 3.7%. This will add 1.8 pounds to per capita total red meat and poultry supplies at 222.9 pounds per person.
"Unfortunately, with the weight increase from a production standpoint, it tells us we've got a bigger supply in the protein market to work through as we go through the next 12 months," Good said. "So, yes, trade is very friendly from a long-term perspective, but we also need to recognize that we built the system – particularly in the pork and poultry worlds – where we are producing more product that will affect price as we go through 2020."
Good pointed out that demand will have a larger influence on price changes going forward. He expects higher-quality beef production to support the demand, with Prime and Choice quality grades making up more than 80% of all fed beef production in 2020.
"We have done a very good job at producing a higher-quality and more consistent product," Good said. "Our consumer does prefer beef. They are willing to spend more than pork and poultry. We've got a bigger pie [consumer spending] over the last 20 years, but beef is getting a bigger piece of that pie."
For 2020, Good projected fed steers to average $120 per hundredweight (cwt), an increase of $3 from last year, and calf prices to increase with 550-pound steers averaging $170 per cwt and 750-pound steers averaging $150 per cwt, both up $6 over 2019. Utility cows will be up $5, averaging $60 per cwt and bred cows steady, averaging $1,500.
With the enormous potential in beef exports and consumer demand, Good said, "We are going to be a little more optimistic this year as we talk about price." However, the progress has yet to be realized.
PHOTO: Cattle Fax market analyst Kevin Good speaks to producers at the National Cattlemen's Beef Association convention in San Antonio. Photo by David Cooper.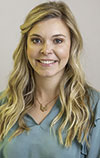 Cassidy Woolsey

Editor
Progressive Cattle