CattleFax CEO Randy Blach informed attendees at the CattleFax outlook seminar at the National Cattlemen's Beef Association's annual convention in New Orleans on Jan. 31 that the U.S. cattle industry is nearing a peak in production and profit in the cattle market cycle.
He said the U.S. has seen a 3-million-head increase in annual fed cattle marketings this year compared to 2015 data. "The bottom line is the pipeline is full," he said during the seminar. "The feedyards are full; we've been running the packing plants at full capacity; our grazing areas are full; and our cattle herd is up 3 million head as well."
He says that about half of the growth of the U.S. cattle herd this year has been seen in the feedlots. "Feedyards have been growing at a very high occupancy level, especially over the last 18 to 20 months. Most yards are full."
The cattle market cycle has for the past few decades moved in dramatic upswings and downswings, which Blach referred to as "boom and bust" episodes. He says that the U.S. has mostly left that phase behind and that the cycle is currently growing more slowly and steadily.
"We don't expect that we're going to grow the herd significantly more, but with the pipeline as full as it is, you should expect as cow-calf and stocker operators and growers that you can likely see a little more narrowing of the [price] spread between the various classes of cattle," he said. "My message to those of you on the cow-calf and stocker side is that you need to be aware that we still have some cyclical price risk until these numbers peak and our production peaks into the early part of this next decade."
Increase in Prime/Choice
CattleFax's latest data shows a 50 percent increase in the quantity of Prime and Choice product U.S. ranchers are producing on an annual basis, growing from 11.5 billion pounds in 2004 to 17.5 billion pounds today. Blach says this improvement in quality is reflected in consumer demand for superior quality meat.
"I think we have the data that proves that [consumers] have responded to the higher quality product that they've been willing to pay for," he said. "I think this tells a great story for our business that we've finally started listening to the consumer, and the consumer is rewarding us."
Blach used the example of the beef industry crisis in the '80s and '90s, when beef demand dropped 50 percent from 1979 to 1998. "We lost 400,00 producers in our industry through that time period," he said. "Cattle numbers dropped from 132 million head to less than 100 million head."
He says the growth in the total cattle inventory and the increase in meat quality are a testament to the power of responding to a consumer signal. "Congratulations to each and every one of you for your impact in helping move that trend."
Watch list for 2019
Blach also included a watch list for 2019 of possible events that will impact the beef industry:
One or two 0.25 percent interest rate hikes in 2019.
Stock market will remain volatile but strong through mid-year.
Risk of economic slowdown is certainly possible by 2020.
Record beef, pork and poultry production and meat consumption.
Grain markets are not expected to break out of five-year trading range.
African swine fever will be a wild card in 2019-20.
Fake meat will become more cost-competitive and will gain market share.
Expect market volatility to remain elevated.
Cattle industry will remain profitable, but cyclical price risk will continue into early 2020s.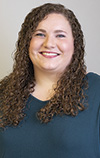 Carrie Veselka

Editor
Progressive Cattleman
PHOTO: CattleFax CEO Randy Blach gives producers some insights on what to expect in 2019. Photo by Joy Hendrix.