Colin Woodall, senior vice president of government affairs for the National Cattlemen's Beef Association (NCBA), told producers at the Texoma Cattlemen's Conference that beef interests are hitting a high peak of negotiations headed into the summer, as they relate to transport rules, the farm bill, export trade and beef labeling.
Electronic logging device rules
The electronic logging device (ELD) rules being crafted by the Transportation Department could restrict how much time a driver spends with cattle trailers on the road. The negotiations are well into their second year. Woodall said animal welfare concerns from all sides, including NCBA, have been used to craft exemptions to the limits that restrict travel time for livestock.
That led to questions from the Transportation Department about how the industry is getting around existing rules. From those questions, Woodall explained, "our dirty laundry came out."
"That's when we came hat in hand and said, 'We're breaking the law,'" he said. "We know it's happening. It's happening right now. But it did bring up a question that ag has never treated correctly to begin with and we have to fix it, because it's an animal welfare issue. We need to get those animals to their next stop, and you don't want to stop along the way."
Woodall said current bills with bipartisan support have a 300-mile air radius from a driver's pick-up point. If a livestock driver operates within those 300 miles, the Department of Transportation's hours-of-service rules will not apply. Likewise, a 150-mile radius from the point of delivery will be exempt from the hours-of-service cap.
"In between you're still 15 to 18 hours of driving. It's a big ask; that's a lot of driving. But it would make sure those animals get on the trailer, get to their destination in under 28 hours, which is the maximum amount of time they can be on a trailer, and we can be sure that we don't have an issue on the side of the road."
The ELD rules revision has until Sept. 30 to be completed.
Farm bill
The current farm bill will expire on Sept. 30, just weeks before the midterm elections, making it a bad time in this political season to pass legislation. But the livestock industry wants additional money dedicated to battling foot-and-mouth disease (FMD), which is already seen as a potential terrorism threat to the food supply.
They got it June 21, as the House passed a farm bill version with legislative language to establish an FMD vaccine bank.
"We need a vaccine; that's our big ask," Woodall said, "to establish a U.S.-only vaccine bank to be prepared for the reintroduction of foot-and-mouth disease. We think it's a question of not if, but when it happens."
The version of the bill goes to a joint Senate-House resolution committee before hitting the full Senate.
Export and trade
The ag community continues to experience heartburn over President Trump's negotiating tactics with North American partners, as well as those in the EU and China. But Woodall said the NCBA has learned that ultimately it hits the reality of what the president delivers.
"Our position is clear: You can't try to outguess the president. We can yell and scream, but we have made it clear to the president and trade negotiators how important trade is to us. Now we have to have faith there's an end game and that materializes very soon."
The growing supply of beef expected in 2018 makes those pushes for open markets, and reduced tariffs, especially necessary, Woodall said.
"More beef is coming to market across the board, and we need to move it. Trade is important to our bottom line."
Woodall said the NAFTA deal with Mexico and Canada "has been good for us" in the beef industry, and "the president has supported us by leaving the beef portion alone."
But because of the elections this year in Mexico, there will be no finishing of NAFTA this year.
Tax policy
Woodall said Republicans and the president may make a second version of tax reform, after last year's successful version went into law. That version lifted the death tax exemption from $5 million per person to $10 million, with $20 million for couples, and also protected interest deductions and bonus depreciation in assets.
"We also protected your ability to use cash accounting. Congress wanted to move all of you to accrual accounting. I guarantee that would have destroyed the books of everybody sitting here."
The second attempt at tax reform would try to make last year's changes more permanent, and to protect or create new exemptions of agriculture in the tax code.
Lab meat labeling
Plant-based protein is already on store shelves. Animal-cell protein grown in cultures is on the way. Now the NCBA wants its producers and members to be ahead of the ball and help rally support for labeling of lab meat.
The debate is now whether the USDA or the Food and Drug Administration (FDA) should be the ones regulating this new protein. The NCBA is working for bills that give USDA's Food Inspection Service (FIS) the job.
The goal isn't to stop those beef alternatives from entering the market, Woodall explained. Rather, they want the USDA to be the consistent monitor of all products.
"If these people want to play in the meat space, they're going to be regulated in the meat space. That means they're regulated every day that they're operating just as we are. Then make sure they can't call themselves beef. Call it whatever they want, but don't call it beef."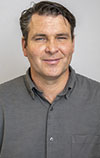 David Cooper

Managing Editor
Progressive Cattleman
PHOTO: Colin Woodall, NCBA's senior vice president of government affairs, speaks to the audience at the Texoma Cattlemen's Conference. Photo by David Cooper.