It's been said, "People need to be reminded more often than they need to be instructed." That could explain why drought was again a hot topic at the Range Beef Cow Symposium in Cheyenne, Wyoming, in late November.
Justin Derner with the USDA Agricultural Research Service in Cheyenne encouraged producers to take a good, hard look at their operations and current management. What is being done now? What are some things that could be done differently? How is drought viewed?
According to Derner, "Drought isn't always bad. It's an opportunity to make changes you wouldn't normally do." And that doesn't necessarily mean selling out or reducing the herd size, he said.
Some of his drought management strategies include:
Diversify – Consider transitioning from a 100 percent cow-calf to a cow-calf and yearling operation. For example, some producers use two-thirds of their long-term forage carry capacity for their cow herd and flex the yearlings on the rest. This option reduces selling genetic progress in dry or drought years.
Retain more heifers in the fall – If there is extra forage, producers can either breed or send the heifers to the feedlot after grass. Likewise, if it's dry, producers can sell heifers or send them to the feedlot.
Graze dry cows in late spring or summer – If there is extra forage, producers can keep or purchase dry cows in the spring and add weight to them. Or producers could consider custom grazing a portion of the ranch as another option.
There are economical advantages to adding some flexibility to the operation, Derner pointed out. Showcasing research from New Mexico State University and the University of Wyoming, he explained that if a producer moved from a traditional cow-calf only business to a flexible operation such as cow-calf pairs and yearlings, overall that comparison nets $60,000 more profit on the same amount of land.
Weather outlook
Brian Bledsoe, a meteorologist in Colorado Springs, Colorado, and drought plan guru, told attendees he is troubled about the slight-to-moderate La Nina episode that he forecast for later in the spring. In areas like eastern Colorado and the Western High Plains that bank on spring moisture, it could be a serious problem – paving the way for drought expansion or drought intensification, he said.
Walking attendees through weather models dating back to 1995, he pointed out similarities in other La Nina episodes. These episodes were typically dry, with the farther south and the farther west being the driest.
"I think this La Nina episode is going to last for a little while," Bledsoe said. "I don't think we'll have strong levels of it, but I definitely think it's going to be impactful. This is especially true in the Southern Plains and the Western Plains. My gut says the farther north you live, the less dry you'll be. Notice I didn't say the wetter you'll be."
Bledsoe also stressed the importance of having a drought plan. Recounting a conversation he had with his dad (a producer in Colorado) recently, Bledsoe noted that his dad could go buy quality hay for roughly $75 a ton delivered. But if this dry spell hits, that $75 a ton of hay is easily going to go to $115 overnight, he said.
"I know a lot of people that make money during a drought – if they know it's coming and plan for it," he said.
Producer perspectives
Adding to the presentations, Craig Bieber of Bieber Red Angus in Leola, South Dakota, and Shannon Sims of Sims Cattle Co. in McFadden, Wyoming, shared their approach for managing low forage years and, when worst comes to worst, drought.
Because drought and dry spells are different events, Bieber said it alters the way they should be managed. Being a seedstock operation, Bieber explained they are a little less flexible in terms of selling out and rebuilding their genetic program – meaning liquidating cattle is their last resort.
One approach, Bieber said, is spreading out geographically. "It is always tempting to jump on a lease or purchase opportunities that are close to the home place. However, if the weather turns on you, what is the value of having more grazing ground that is suffering from low forage production? I have no doubt this strategy has saved us in the long run," he said.
Other strategies he uses to manage low forage years are:
Graze cover crops and crop aftermath from farmers in his area.
Purchase a portion of low-quality roughage to be added to distillers grains or other byproducts for a cost-effective mix.
Maintain a cost-benefit analysis to substitute alternatives in a year that is short of forage. For example, in a low forage year, producers were paying $100-plus a ton for poor-quality forage, while Bieber decided modified distillers grains and corn were a better value, which lowered their cost to about $1.85 per head per day instead of $2 per head per day.
Use hoop structures as not only a calving facility, but a mitigation tool during years of low forage production. Bieber figured that during the growing season he could house 40 to 60 percent of the cattle in the confinement system to reduce the added expense of trucking and rented grazing in areas where forage was low.
Lastly, Sims concluded with what works for his commercial cow-calf and yearling operation at an elevation of 7,200 feet and an average rainfall of 16 inches. For him it's all about rest – resting one-third of his upland pastures each year, that is.
Sims explained in 2004, there was a lot of wind turbine development in their area and they were forced to let some of their pastures sit for testing. It wasn't until the following spring when they noticed how much rest positively affects the rangeland. Not only did they have new growth, but they also had new recruits that had come up from the bare ground.
"It really opened our eyes up to the value of rest in our environment," he said. "So when we have one of these debilitating droughts where we have to make some major changes, we already have one-third of our ranch set aside that we can go onto as a grass bank. Right now we have 33 percent more forage than we did before, and that's our biggest secret weapon against drought."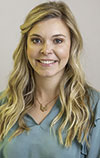 Cassidy Woolsey

Editor
Progressive Cattleman
PHOTO: Justin Derner with the USDA Agricultural Research Service speaks to producers at the 2017 Range Beef Cow Symposium in Cheyenne, Wyoming. Staff photo.